Welcome To Uncle Jack's Very Vintage Vegas!
Vintage Las Vegas Homes,
Historic Las Vegas Neighborhoods,
Las Vegas History,
Urban Living In Las Vegas.
If it's great, cool, fantastic, artistic, annoying, amusing, unique, or surprising.. you'll find it at VeryVintageVegas.com.
Check out what we're doing and add your two cents! Your comments & ideas are welcome. We update daily, so come back tomorrow!
Blogroll
Farmer's Insurance
Paul Hesselgesser
702-434-1230
The Hesselgesser Insurance Agency Website
Classic Las Vegas - Lynn Zook's Preservation of 20th Century Las Vegas
Curbed LA - WOW!
Mid-Century Modernist
RETRO RENOVATION - Pam's Excellent Effort At Re-creating A Retro Life
Carnival Of Real Estate - Minus Elephant Ears, But Still Mighty Tasty
Lotta Livin' - A Celebration Of Really Cool Things Mid Century
Bawld Guy Talking - Minus The Hair; Plenty Insightful
CoolnessIsTimeles - ALL "RAT PACK" ALL THE TIME!
SEE ALL OUR FAVORITES HERE

October 26th, 2007 Categories: ART, Downtown Businesses, Downtown Las Vegas, Events, First Friday, Las Vegas Real Estate News, Soho Lofts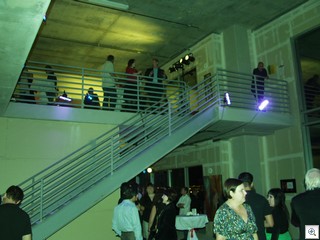 About 200 ardent supporters of First Friday came out to socialize. Most of the best known artist, gallery and shop owners were there. David Figler, a downtown resident and KNPR commentator MC'd the event.
The 2 story penthouse loft of Soho Lofts was a great venue for a party. You'll see from the pictures it's in what we call "gray shell" condition, ready for the finishing decor.
Grocery Stores, and REI and the fate of the Arts District, and of course First Friday were the hot topics of the conversations I had with Tony Bondi, my best friend and travel agent Terry Wilsey, Denise Duarte and Marlene Adrian. We ran into Steve Ligouri, Marty Walsh, Phil Hagen, Amy Schmidt and Kristin from Vurb Magazine, Cindy Funkhouser, Naomi Arin, Stephen Jackson the architect, and many others.