Welcome To Uncle Jack's Very Vintage Vegas!
Vintage Las Vegas Homes,
Historic Las Vegas Neighborhoods,
Las Vegas History,
Urban Living In Las Vegas.
If it's great, cool, fantastic, artistic, annoying, amusing, unique, or surprising.. you'll find it at VeryVintageVegas.com.
Check out what we're doing and add your two cents! Your comments & ideas are welcome. We update daily, so come back tomorrow!
Blogroll
Farmer's Insurance
Paul Hesselgesser
702-434-1230
The Hesselgesser Insurance Agency Website
Classic Las Vegas - Lynn Zook's Preservation of 20th Century Las Vegas
Curbed LA - WOW!
Mid-Century Modernist
RETRO RENOVATION - Pam's Excellent Effort At Re-creating A Retro Life
Carnival Of Real Estate - Minus Elephant Ears, But Still Mighty Tasty
Lotta Livin' - A Celebration Of Really Cool Things Mid Century
Bawld Guy Talking - Minus The Hair; Plenty Insightful
CoolnessIsTimeles - ALL "RAT PACK" ALL THE TIME!
SEE ALL OUR FAVORITES HERE

Archive for July, 2010
July 9th, 2010 Categories: Congratulations, Worst MLS Photo
Might as well bring them back. If you're a fairly new reader, you might want to check out the HUNDREDS of them that I published in a long series. The last one was just over a year ago on July 3rd, 2009.
I've been totally slammed since before the holiday weekend. I truly thought I could take 2 days off last Sunday and Monday, but the world just wouldn't let me. It also left me no time or energy to blog some more as I'd promised. This way at least I get something posted to keep you interested.
Back when we were running this series, there were only 8 photo slots for the MLS. Often there weren't any pictures at all being shown. Then they changed the rules and required at least one. Then we often got ONE and ONLY one. Then they upped it to 16 available picture slots, and eventually to 25. Now we have 3 times the opportunity to find bad pictures. This might be fun again.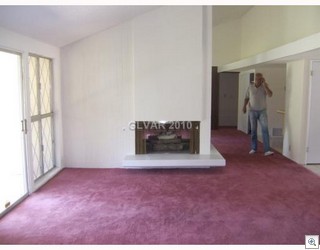 Let's start out with an easily identifiable KRISEL design home in Paradise Palms. It's a Model 8, on the golf course. It's for sale for 225,000. AND it's not a SHORT SALE or an REO.
The man in the picture isn't as easily recognizable. I still haven't decided if he's taking picture into a mirror, or if he merely stepped in front of the shot while someone else was taking the picture.
People in the pictures is just one of the dozen categories of things agents do wrong. A better angle would have been from about 5 feet to right. Then it would show that it's a peninsula fireplace separating the living room from the dining room, and would show more of the "wall of glass" with the view out to the golf course.

The only thing worse than a bad picture is no pictures at all.
Posted by Jack LeVine | Currently 4 Comments »