Welcome To Uncle Jack's Very Vintage Vegas!
Vintage Las Vegas Homes,
Historic Las Vegas Neighborhoods,
Las Vegas History,
Urban Living In Las Vegas.
If it's great, cool, fantastic, artistic, annoying, amusing, unique, or surprising.. you'll find it at VeryVintageVegas.com.
Check out what we're doing and add your two cents! Your comments & ideas are welcome. We update daily, so come back tomorrow!
Blogroll
Farmer's Insurance
Paul Hesselgesser
702-434-1230
The Hesselgesser Insurance Agency Website
Classic Las Vegas - Lynn Zook's Preservation of 20th Century Las Vegas
Curbed LA - WOW!
Mid-Century Modernist
RETRO RENOVATION - Pam's Excellent Effort At Re-creating A Retro Life
Carnival Of Real Estate - Minus Elephant Ears, But Still Mighty Tasty
Lotta Livin' - A Celebration Of Really Cool Things Mid Century
Bawld Guy Talking - Minus The Hair; Plenty Insightful
CoolnessIsTimeles - ALL "RAT PACK" ALL THE TIME!
SEE ALL OUR FAVORITES HERE

Archive for August, 2010
August 16th, 2010 Categories: Las Vegas Real Estate News
They're proposing an expansion of the Redevelopment Districts in the City of Las Vegas. A series of meetings have been set up to discuss this and to get input from the residents who could be affected.
The first meeting for Ward 3 is tonight, and I apologize for the delay in telling you about it. The second meeting for Ward 3 is next Monday 8/23.
I don't believe (at the moment) that an expansion of the Redevelopment Districts will be harmful to the residential neighborhoods of Vintage Vegas, but I'm certainly going to be attending both meetings before making up my mind.
Below the invitation is the letter from Gary Reese explaining why you might want to attend.
Ward 3 proposed redevelopment area maps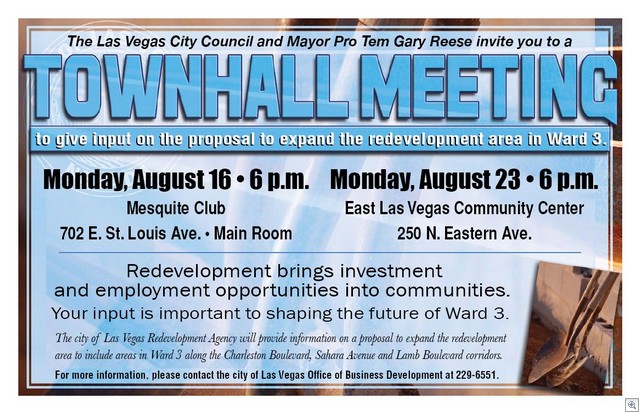 I hope you will join me at one of the two upcoming town hall meetings in our neighborhood to discuss the proposed expansion of the Las Vegas redevelopment area, and how these changes could benefit you and your neighbors.
The meetings in Ward 3 have been scheduled to get community input on the proposed expansion of the Las Vegas redevelopment area and address any concerns residents may have. The city of Las Vegas Redevelopment Agency (RDA) is looking to extend the benefits of redevelopment in areas of Wards 1, 3 and 5. The RDA is seeking input to ensure that future redevelopment meets the wants and needs of the community. The Redevelopment Agency uses new property taxes from new development — called tax increment — to invest in the community, attracting new private investment and new jobs.
The meetings will be held on:
• Monday, Aug. 16, at 6 p.m. at the Mesquite Club, 702 E. St. Louis Ave., and
• Monday, Aug. 23, at 6 p.m. at the East Las Vegas Community/Senior Center, 250 N. Eastern Ave.
Information on various aspects of redevelopment will be presented during the meetings including:
• What is included in the existing redevelopment area.
• The proposed expansion of the redevelopment area.
• Answers to common questions and concerns.
The RDA is actively working on many projects in Las Vegas that are generating jobs and economic opportunity. More information on redevelopment in Las Vegas and the RDA, is available online .
If you have any questions, please contact my office at 229-6405.

Sincerely,
Mayor Pro Tem Gary Reese
Posted by Jack LeVine | Currently Comments Off on Town Hall Meetings To Discuss Expansion Of The Redevelopment Areas In The City Of Las Vegas
August 2nd, 2010 Categories: Las Vegas Real Estate News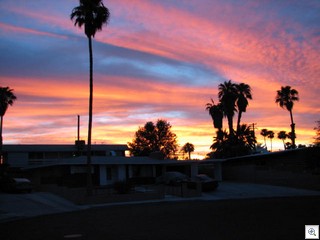 Last night's sunset from my front yard in the historic downtown Las Vegas neighborhoods that I call Very Vintage Vegas.
There's 2 redeeming aspects of the annual August/September monsoon season. One of course is that it should/might rain a lot. The other, of course, is the magnificent sunsets.
How it got to be August in the first place is bewildering. Each day is jam-packed with appointments and meetings and paperwork, and phone calls, and they fly by in a flash. I didn't even realize that the entire months move just as quickly now-a-days.
I SWEAR (once again) to get back to blogging regularly about the mid-century modern homes, the retro neighborhoods and urban living in Las Vegas. One thing that will help is that I've hired a new assistant to help me with the paperwork and filing drudgery. It's so much more fun to be blogging and meeting with people when the paperwork is caught up.
New Smart Phone Website For The City of Las Vegas Rapid Response Team
An interesting project that I'm working on with the City of Las Vegas is a smartphone app/Website that will allow any of us with a web enabled phone to report graffiti, junk cars, stagnant/green pools etc to the city without having to call in during business hours. I'm going to City Hall today to do the prototype testing and evaluation.
Until it's perfected and up and running, you should still call 229–6615 to report problems in the CITY. In CLARK COUNTY, the number is 455–4191
Huntridge Circle Park And The Veterans Memorial
Last week I was interviewed by the View newspaper about the history of the Huntridge Circle Park, and the Huntridge Neighborhood for an upcoming article about the Veteran's Memorial that's going to be built in Huntridge Circle Park. I emphatically emphasized that the neighborhoods would be happy to see the park open NOW – with or without bathrooms, or fences or a memorial.
The selection committee is getting ready to make there final decision as to which of the 4 design concepts will be installed.
The Short Sale Game Has Improved Dramatically
Almost all the business we're doing is short sale transactions. In the distant past (last year), it's been a slow frustrating, laborious, and insane game. In the last few months, we've seen dramatic improvement in every aspect of the game.
And yes, it's a game. A game well worth playing. If you're a buyer, it's still the best way to get a great deal on a home you like. The home will likely to be in much better condition that a foreclosure, you'll get a quicker answer from a short sale seller than you will from a bank, and the whole process is now averaging 3 months instead of 6 months.
If you're a homeowner who's upside down on your mortgage, behind in payments, or struggling financially, there's no reason to lose your house to foreclosure. A short sale can take the pressure off, give you time to regroup, and will not damage your credit nearly as much as a foreclosure.
If you or someone you know is struggling with a mortgage they can no longer afford, give me a call. We're handling short sales smartly and professionally. Almost all of the buyer's I work with are buying in Vintage Vegas, but we're handling short sales for the sellers all over the Valley and in every price range.
SEVEN Magazine Give A Nod This Week To The Historic Neighborhoods Of Las Vegas
In their best of Las Vegas series, they mention (with my help) The Best Historic Neighborhood. I wanted them to mention all of them, but they polled me and their staff and others. I don't know if there's really a "best" and I'm partial to them all as you know.
Best Vintage Neighborhood

In a valley whose housing stock is ravaged by recession reaching into every gated community, wouldn't it be nice to find a place with cool houses, cool people and a good neighborhood spirit—in other words, a sense of place? We whittled our list to five and then enlisted the help of two real estate agents respected for their knowledge of Old Vegas neighborhoods: Jack LeVine and Steve Franklin. "It's tough," says LeVine, who writes a blog on classic Vegas homes at his website, veryvintagevegas.com, "but I'd vote for the John S. Park/Southridge/Beverly Green combo." This central Vegas area (east of Las Vegas Boulevard between Charleston Boulevard and St. Louis Avenue) offers "the perfect blend of architecturally cool mid-century homes" occupied by "vibrant, energetic and community-minded souls." Franklin agrees it's tough to pick a favorite, but John S. Park is attractive because it "breaks a very basic rule of master-planned communities, and that is conformity." Like many Old Vegas areas, John S. Park homes are eclectic ("Homes that are 900 square feet can rest comfortably next to a 2,500-square-foot home," Franklin says) and therefore house a diverse group, from artists to attorneys. Franklin sees the area as a naturally developing community, regaining the luster it once had in the 1950s. "Many downtown business owners opt to live downtown," he says. "It adds to that community and neighborly sensibility. We truly get to live, work, and play, all within a three-mile radius. Where else does something like that happen in the Valley?"
Posted by Jack LeVine | Currently 3 Comments »