Welcome To Uncle Jack's Very Vintage Vegas!
Vintage Las Vegas Homes,
Historic Las Vegas Neighborhoods,
Las Vegas History,
Urban Living In Las Vegas.
If it's great, cool, fantastic, artistic, annoying, amusing, unique, or surprising.. you'll find it at VeryVintageVegas.com.
Check out what we're doing and add your two cents! Your comments & ideas are welcome. We update daily, so come back tomorrow!
Blogroll
Farmer's Insurance
Paul Hesselgesser
702-434-1230
The Hesselgesser Insurance Agency Website
Classic Las Vegas - Lynn Zook's Preservation of 20th Century Las Vegas
Curbed LA - WOW!
Mid-Century Modernist
RETRO RENOVATION - Pam's Excellent Effort At Re-creating A Retro Life
Carnival Of Real Estate - Minus Elephant Ears, But Still Mighty Tasty
Lotta Livin' - A Celebration Of Really Cool Things Mid Century
Bawld Guy Talking - Minus The Hair; Plenty Insightful
CoolnessIsTimeles - ALL "RAT PACK" ALL THE TIME!
SEE ALL OUR FAVORITES HERE

Archive for July, 2011
July 18th, 2011 Categories: Downtown Las Vegas, First Friday
Regardless of what Channel 8 reported last night – there will still be a First Friday in the Downtown Las Vegas Arts District.
What won't happen for 2 months will be the "street fair" on casino center. No street closure. No bandstand stage. No fences. No tents. No Trolley buses. That part of First Friday is operated by the non-profit organization called Whirly Gig.
The biggest part of First Friday will go as usual. The Arts Factory, Gypsy Den, Retro Vegas and the shops and galleries and venues on Main Street, Casino Center, Charleston etc will all be open.
Facebook is all a buzz on the topic (especially on Brian Paco Alverez's page. Primarily the chatter is that First Friday is SO MUCH BIGGER AND BETTER than just the fenced off street fair of Casino Center and California. There's going to be a big push to make the August 5th and September 2 First Friday's into the biggest and best events ever.
Among the more poignant comments:
Brian Paco Alverez says – "Like I said earlier I will report on First Friday as usual and encourage everybody to come down and have some fun. Lets brand the next First Friday Hot August Nights in Downtown…
David Moses says – "Most of the art-loving public doesn't draw a distinction between those parts of First Friday that Whirly-gig produced versus all the rest of the parts that are produced by local business and gallery owners in 4 or more separate and distinct…areas of downtown. The local business and gallery owners throughout downtown, including those south and west of the 18b Arts District, those in the 18b proper, and those in the Fremont East Entertainment District and most notably, Emergency Arts, will all be open for business and receiving visitors on First Friday as well as Preview Thursday. ONLY the Whirly-gig stuff is on hiatus. Everything else lives on. The noted absence of those "security" gates will only help to ensure the inclusion of those businesses and galleries located on the outside fringes of the "official" Whirly-gig zone. The only truly big net loss to the business and gallery communities is the trolley that shuttled visitors between El Cortez and the 18b on First Friday. Oh, but never mind, we still have the ACE and Deuce buses doing just that. As much as I appreciate 8NewsNow, this was pretty poor reporting because none of the actual businesses or galleries in and around the 18b Arts District were even featured in the still shots they screened."
Earnest Hemmings says: It will still exist. The fence wasn't there before.The fence just meant more children. Without the fence it will be a much more adult event. It will actually have a greater impact for the artists AND the patrons.
Ann Davis Mulford says: "THERE WILL BE NO "HIATUS" of FIRST FRIDAYS….As the President of the Board of Directors of the Contemporary Arts Center, located in the Arts Factory and 22 YEARS STRONG; we are also the CORNERSTONE of the Arts Community and First Fridays, …long before First Fridays was a glimmer in several peoples eyes…let me just say, OFFICIALLY, we will be hosting PREVIEW THURSDAYS AUGUST 4th and FIRST FRIDAYS AUGUST 5th as usual, at the ARTS FACTORY; and EVERY Preview Thursdays and EVERY First Friday from now until the last art patron in Vegas goes looking elsewhere for interesting art and individuals to interact with…not in my lifetime I hope! Media people and anyone else who wants to hear the TRUTH; PLEASE PLEASE PLEASE, from now on PLEASE, seek a comment at the very least from one of us who are truly involved in the day to day, let alone help make this monthly celebration of the Arts in Las Vegas grow and flourish as it has done and will continue to do, for many months and years and decades into the future.
And I SAY: Channel 8 makes it sound like First Friday "as a whole" will be on hiatus. Obviously from the buzz I'm getting and certainly based on the comments here…..the next two First Fridays might well be the biggest and best ever. There's going to be lots of other stories done, and perhaps even the most publicity ever during the next 18 days. I vote for Paco's branding of it as "HOT AUGUST NIGHTS" in the Downtown Las Vegas Vegas Arts District.
Posted by Jack LeVine | Currently 2 Comments »
July 1st, 2011 Categories: Las Vegas Real Estate News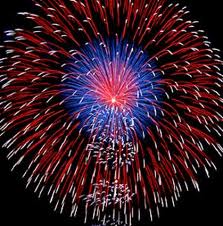 It's always my favorite holiday. I can't really explain it, unless it's about there being no gifts, cards, flashing lights, endless commercials, religiousiosity, sappiness, overeating, candy, masks, visitors, or hangovers.
It's "just" a simple celebration of one of the most important events in human history – AND we get fireworks, one of my favorite things in the world.
When I was a kid, my mother not only gave us birthday parties, she also gave us half birthday parties. She always said that there just couldn't be too many reasons to have a cake. I've always treated the 4th of July as the half birthday of the year. Have some cake this weekend as an extra special treat!
All my best to all of you for a safe and happy 4th of July
Uncle Jack
Posted by Jack LeVine | Currently Comments Off on Happy 4th Of July