Welcome To Uncle Jack's Very Vintage Vegas!
Vintage Las Vegas Homes,
Historic Las Vegas Neighborhoods,
Las Vegas History,
Urban Living In Las Vegas.
If it's great, cool, fantastic, artistic, annoying, amusing, unique, or surprising.. you'll find it at VeryVintageVegas.com.
Check out what we're doing and add your two cents! Your comments & ideas are welcome. We update daily, so come back tomorrow!
Blogroll
Farmer's Insurance
Paul Hesselgesser
702-434-1230
The Hesselgesser Insurance Agency Website
Classic Las Vegas - Lynn Zook's Preservation of 20th Century Las Vegas
Curbed LA - WOW!
Mid-Century Modernist
RETRO RENOVATION - Pam's Excellent Effort At Re-creating A Retro Life
Carnival Of Real Estate - Minus Elephant Ears, But Still Mighty Tasty
Lotta Livin' - A Celebration Of Really Cool Things Mid Century
Bawld Guy Talking - Minus The Hair; Plenty Insightful
CoolnessIsTimeles - ALL "RAT PACK" ALL THE TIME!
SEE ALL OUR FAVORITES HERE

September 21st, 2011 Categories: Las Vegas Real Estate News
I've re-written this post several times. Each time it came out kind of "look how well they do things in LA– we suck".
We don't really suck. We do get homes sold – even in the toughest, worst Real Estate Market in the world. But, it's a lot easier to market it well when the home is almost a million dollars. And in Hollywood. And your friends are movie people. However, Eric Lavey has raised the bar on how to show off a listing. I'd be remiss to not show it to you.
The story first appeared on AOL REAL ESTATE. I picked up on it from Inman News. Within hours it showed up on several real estate industry blogs that I folow. I think it should be shared with the readers of VeryVintageVegas for a couple of reasons.
First, in contrast to what we normally see in the Las Vegas MLS – it wasn't shot with the video camera on a cell phone. It's not out of focus. It wasn't loaded sideways. The kitchen is clean and tidy. It's not vacant and dirty and beat up. The landscape is alive. The bed is made. There's no shopping cart on the curb in front of the home. It wasn't shot on trash day.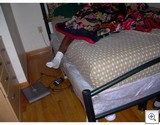 Several years ago, we did a 3 year long series on the Worst MLS PHOTOS. In contrast to the below video, here's the 2007 winner of the worst MLS photo contest. As you can see, there's been other occupants who have had staring roles in the marketing materials.
Most importantly, it's a very cool Mid Century Modern Home. Enjoy!
6816 Pacific View Drive, Hollywood Hills from Eric Lavey on Vimeo.
Mirth said at September 21st, 2011 at 2:05 pm

Awesome house and really cool video! I love the way they left you hanging as to "who" was going to step out of that car! Real estate advertising a few steps above average with this one.

Eastern Sierra Real Estate said at June 18th, 2012 at 11:53 am

Beautiful house and thanks for the HD video, I'd really would like to know that who are the occupants?