Welcome To Uncle Jack's Very Vintage Vegas!
Vintage Las Vegas Homes,
Historic Las Vegas Neighborhoods,
Las Vegas History,
Urban Living In Las Vegas.
If it's great, cool, fantastic, artistic, annoying, amusing, unique, or surprising.. you'll find it at VeryVintageVegas.com.
Check out what we're doing and add your two cents! Your comments & ideas are welcome. We update daily, so come back tomorrow!
Blogroll
Farmer's Insurance
Paul Hesselgesser
702-434-1230
The Hesselgesser Insurance Agency Website
Classic Las Vegas - Lynn Zook's Preservation of 20th Century Las Vegas
Curbed LA - WOW!
Mid-Century Modernist
RETRO RENOVATION - Pam's Excellent Effort At Re-creating A Retro Life
Carnival Of Real Estate - Minus Elephant Ears, But Still Mighty Tasty
Lotta Livin' - A Celebration Of Really Cool Things Mid Century
Bawld Guy Talking - Minus The Hair; Plenty Insightful
CoolnessIsTimeles - ALL "RAT PACK" ALL THE TIME!
SEE ALL OUR FAVORITES HERE

December 23rd, 2011 Categories: Las Vegas Real Estate News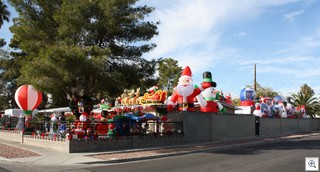 First, the best holiday display among all the Vintage Las Vegas Neighborhoods. My dear friends Lee and Laura have really out-done themselves this year with their holiday wonderland.
Nighttime is best of all to see it. FRIDAY NIGHT DECEMBER 23 They'll be serving hot chocolate to all who stop by from 6 to 8 pm.
You can find the largest collection of blow up Christmas Decor in all of Las Vegas at:
1901 Houston Ave, at the corner of Crestwood Drive. (south on Crestwood from Charleston or west on Houston from Eastern). It's also in the begging to be re-discovered Mid-Century modern neighborhood called Crestwood.
All of Lee and Laura's past and present displays can be seen at the twisted vegas website
BRING ME SUNSHINE
Secondly – as a holiday greeting and wish for all of you – I give you a little video from The Uk's number one Jive and Swing Band – The Jive Aces.
A big thank you to Vegas Judy for sharing it with me. It brought a much needed smile to my face, and if Las Vegas needs anything right now, it needs a smile. Pass it on!
Make sure to catch the little homage that's paid to Louis Prima right near the end.
HAPPY HOLIDAYS!
Lee said at December 27th, 2011 at 2:45 pm

Thank you Jack and over 100 others for coming by Friday night. We had a great time, lots of good food and friends. That is what it is all about. Just spending time with the neighbors and great friends.