Welcome To Uncle Jack's Very Vintage Vegas!
Vintage Las Vegas Homes,
Historic Las Vegas Neighborhoods,
Las Vegas History,
Urban Living In Las Vegas.
If it's great, cool, fantastic, artistic, annoying, amusing, unique, or surprising.. you'll find it at VeryVintageVegas.com.
Check out what we're doing and add your two cents! Your comments & ideas are welcome. We update daily, so come back tomorrow!
Blogroll
Farmer's Insurance
Paul Hesselgesser
702-434-1230
The Hesselgesser Insurance Agency Website
Classic Las Vegas - Lynn Zook's Preservation of 20th Century Las Vegas
Curbed LA - WOW!
Mid-Century Modernist
RETRO RENOVATION - Pam's Excellent Effort At Re-creating A Retro Life
Carnival Of Real Estate - Minus Elephant Ears, But Still Mighty Tasty
Lotta Livin' - A Celebration Of Really Cool Things Mid Century
Bawld Guy Talking - Minus The Hair; Plenty Insightful
CoolnessIsTimeles - ALL "RAT PACK" ALL THE TIME!
SEE ALL OUR FAVORITES HERE

October 1st, 2013 Categories: Las Vegas Real Estate News, Paradise Palms
What could be a better excuse for a new blog post than an opportunity for anyone to be able to tour 5 iconic Mid Century Modern homes in the Historic Neighborhood of Paradise Palms.
There will also be several  "for sale" open houses. I'll be hosting one at  3124 Burnham Ave. Stop by and say hello. This particular home is undergoing restoration and will be for sale or for lease in the near future.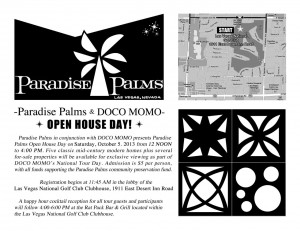 The Open House and Tour is in conjunction with DOCO MOMO – an international non-profit organization for the Documentation and Conservation of the Modern Movement.
THIS SATURDAY – OCTOBER 5th, 2013. The cost is 5.00 per person. Get your map at the Las Vegas National Golf Course club house on Desert Inn Road (between Maryland Parkway and Eastern Ave.) The homes will be open from NOON to 4pm. Maps are available starting at 11:45am.
If you'd like to know more about Paradise Palms – there's a wealth of information on the Paradise Palms website They also have a very active Facebook page.
In the past, I've written plenty about Paradise Palms – which is one of the best Mid Century Modern neighborhoods in Las Vegas. This link will take you to everything on VeryVintageVegas – including a new MLS SEARCH feature that we're building. If you'd like to see the Mid Century properties that are for sale – you can use this link to see them all in a map based search engine.
Penny Lumb said at October 1st, 2013 at 1:11 pm

Hi, Jack,

I was wondering if you are still going to have a bus tour this year or is Saturday's open house a replacement?

I really enjoyed last year's bus tour.

Thanks' for the info,

Penny
Leave a Reply