Alta Rancho Historic District Topics
Welcome To Uncle Jack's Very Vintage Vegas!
Vintage Las Vegas Homes,
Historic Las Vegas Neighborhoods,
Las Vegas History,
Urban Living In Las Vegas.
If it's great, cool, fantastic, artistic, annoying, amusing, unique, or surprising.. you'll find it at VeryVintageVegas.com.
Check out what we're doing and add your two cents! Your comments & ideas are welcome. We update daily, so come back tomorrow!
Blogroll
Farmer's Insurance
Paul Hesselgesser
702-434-1230
The Hesselgesser Insurance Agency Website
Classic Las Vegas - Lynn Zook's Preservation of 20th Century Las Vegas
Curbed LA - WOW!
Mid-Century Modernist
RETRO RENOVATION - Pam's Excellent Effort At Re-creating A Retro Life
Carnival Of Real Estate - Minus Elephant Ears, But Still Mighty Tasty
Lotta Livin' - A Celebration Of Really Cool Things Mid Century
Bawld Guy Talking - Minus The Hair; Plenty Insightful
CoolnessIsTimeles - ALL "RAT PACK" ALL THE TIME!
SEE ALL OUR FAVORITES HERE

Alta Rancho Historic District
January 4th, 2009 Categories: Alta Rancho Historic District, Fun Features Found In Foreclosures
There's a doozy of bank owned REO (real estate owned) foreclosure property in the Alta Rancho Historic Neighborhood. It came on the market the other day for $232,750.12. Actually, I'm just kidding about the twelve cents.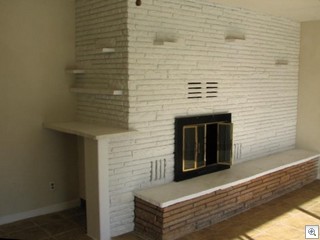 The MLS Pictures aren't bad, but they left this shot out. I think it's worthy of being shown, as it's the centerpiece for this classic home in an historic neighborhood of Las Vegas.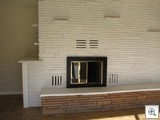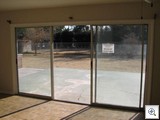 1/2 Acre Lots In Historic Neighborhoods are hard to come by at this price. I've said it before….The banks are just giving away the foreclosure homes for the sake of getting rid of them.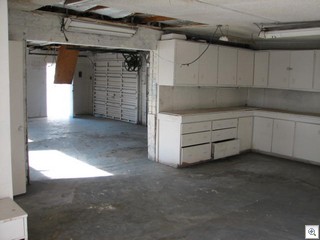 A 1000sf+- garage/storage/workshop/studio?
I know there's one of the artists out there that could REALLY produce with a shop like this.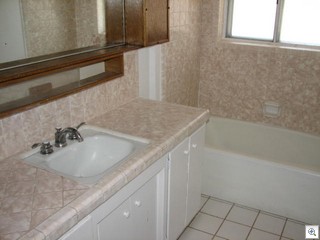 Pink Bathrooms?
There's plenty here that needs polishing, but it's not trashed, bombed out or ever been re-muddled.
What more could you want?
Posted by Jack LeVine | Currently 1 Comment »
October 10th, 2007 Categories: Alta Rancho Historic District, Citizens Leadership Academy, Cool Stuff, Downtown Las Vegas, Green/Alternative Energy
There's only 30 of them in the world. There's only 16 in the US. There's only one in Las Vegas. We're happy to report that the city only leases it for only 5000 a month, and didn't actually buy it. What is it, you ask?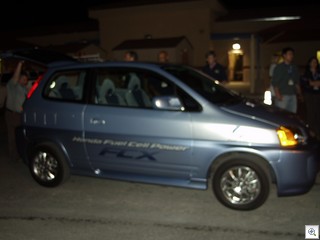 It's the Honda Hydrogen Fuel Cell Concept Car called the FCX. It runs on Hydrogen. Some people think it's THE future technology to solve our oil dependence. Some are skeptical that the cost can ever come down enough to make it practical for the masses. I'll stay optimistic.
The city has it as a pilot test program. It's being used daily by the Parking Enforcement Supervisor, so it's always running around downtown, where it can get the most visibility.
Don't tell anyone, but I got to to take it for a very very short spin around the parking lot. I swear it had the fastest acceleration of anything I've ever driven. They're working on getting the range improved, but right now it's only good for about 120 miles on a fill-up.
Anyway, last nights Citizen Leadership Academy was held at the west maintainance facility near Buffalo and Cheyenne. There's also one on the East side at Bonanza and Mojave. We learned all about street paving, and traffic signals, and future road design, and traffic calming schemes such as round-abouts, and snakes like Alta Drive in the Rancho Alta Historic District.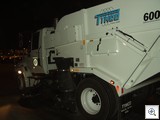 We got a demonstration of the sewer cleaning trucks and the street sweepers. Both of these vehicles are brand new, and just arrived into the cities fleet this week. Street Sweepers have a lifespan of only 5 years, and cost $130,000. The Sewer Trucks cost 250k and last about 10 years, since they're stationary a lot, which the sweepers never are.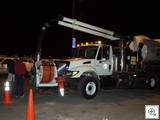 I'm behind in getting the post written up from last Saturday's tour of the sewage treatment plant, but I'll get to it soon.
Tomorrow should be fun, as I'm going on a 8 hour ride around with a Metro Officer from the downtown area command. I'll probably be more excited to get that report to you than I was for the sewer plant.
I'm one of the 25 Las Vegas residents who were chosen to be part of the "Citizens Leadership Academy" for this year. The CLA is an 8 week program on the behind the scenes workings of the City. I'm astounded at how much I didn't know.
Posted by Jack LeVine | Currently 2 Comments »