Downtown Las Vegas Topics
Welcome To Uncle Jack's Very Vintage Vegas!
Vintage Las Vegas Homes,
Historic Las Vegas Neighborhoods,
Las Vegas History,
Urban Living In Las Vegas.
If it's great, cool, fantastic, artistic, annoying, amusing, unique, or surprising.. you'll find it at VeryVintageVegas.com.
Check out what we're doing and add your two cents! Your comments & ideas are welcome. We update daily, so come back tomorrow!
Blogroll
Farmer's Insurance
Paul Hesselgesser
702-434-1230
The Hesselgesser Insurance Agency Website
Classic Las Vegas - Lynn Zook's Preservation of 20th Century Las Vegas
Curbed LA - WOW!
Mid-Century Modernist
RETRO RENOVATION - Pam's Excellent Effort At Re-creating A Retro Life
Carnival Of Real Estate - Minus Elephant Ears, But Still Mighty Tasty
Lotta Livin' - A Celebration Of Really Cool Things Mid Century
Bawld Guy Talking - Minus The Hair; Plenty Insightful
CoolnessIsTimeles - ALL "RAT PACK" ALL THE TIME!
SEE ALL OUR FAVORITES HERE

Decorative Concrete Block Designs
Downtown Las Vegas
April 8th, 2008 Categories: ART, Arts District, Decorative Concrete Block Designs, Downtown Las Vegas, Mid Century Modern
UPDATE: Dedication is 5:30 pm to 7:00 pm (sorry for the typo)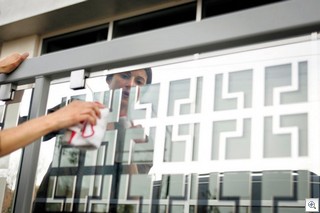 Kristen Peterson tells the story in this mornings Las Vegas Sun:
Photo by Leila Navidi for the Sun
The ornamental concrete walls that accent midcentury modern architecture in old Las Vegas neighborhoods was a stylish option for shading and security during the 1950s and '60s.

Today the decorative walls, conjuring up visions of martini evenings and jet-age architecture, are revered by fans of old-school Vegas.

So when designing a public art project on Hoover Street at Las Vegas Boulevard, downtown resident and artist Catherine Borg tapped into the patterns as a way to integrate old and new Las Vegas.
THE DEDICATION CEREMONY is open to the public on Wednesday at 5:30pm at the corner of Las Vegas Blvd. and Hoover, on the north side of the Soho Lofts Tower.
As most of my long time readers know, I've been collecting photographs of these patterns for several years. I've found 57 different ones, and am still trying to get around to publishing them all. Some day soon, since I now have a new inspiration to get it done.
Here's links to several posts I've done on the subject
Posted by Jack LeVine | Currently 2 Comments »