Francisco Park One (Duplex) Topics
Welcome To Uncle Jack's Very Vintage Vegas!
Vintage Las Vegas Homes,
Historic Las Vegas Neighborhoods,
Las Vegas History,
Urban Living In Las Vegas.
If it's great, cool, fantastic, artistic, annoying, amusing, unique, or surprising.. you'll find it at VeryVintageVegas.com.
Check out what we're doing and add your two cents! Your comments & ideas are welcome. We update daily, so come back tomorrow!
Blogroll
Farmer's Insurance
Paul Hesselgesser
702-434-1230
The Hesselgesser Insurance Agency Website
Classic Las Vegas - Lynn Zook's Preservation of 20th Century Las Vegas
Curbed LA - WOW!
Mid-Century Modernist
RETRO RENOVATION - Pam's Excellent Effort At Re-creating A Retro Life
Carnival Of Real Estate - Minus Elephant Ears, But Still Mighty Tasty
Lotta Livin' - A Celebration Of Really Cool Things Mid Century
Bawld Guy Talking - Minus The Hair; Plenty Insightful
CoolnessIsTimeles - ALL "RAT PACK" ALL THE TIME!
SEE ALL OUR FAVORITES HERE

Francisco Park One (Duplex)
January 3rd, 2008 Categories: Francisco Park One (Duplex), Las Vegas Real Estate News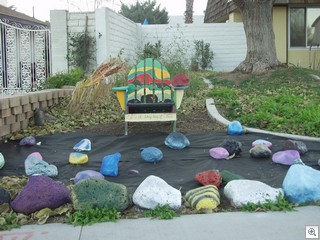 This must be pretty new because I doubt there's a street in Vintage Vegas that I haven't been on in the last month or 2.
Click on the picture to see where the headline came from.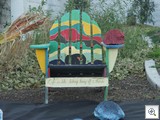 Posted by Jack LeVine | Currently Comments Off on Francisco Park Yard Art – Life Is Like Licking Honey Off Of A Thorn
December 9th, 2007 Categories: Francisco Park One (Duplex), Francisco Park Two (Mid Mod), Las Vegas Real Estate News, Market Conditions, Mortgage, Paradise Palms
The crowd was huge. I'm guessing about 1500 people showed up, which probably translated to 1000 actual bidders. The banks that owned the properties were actually there to make decisions. Most of the homes went to contract yesterday. A dozen or so along the way were brought back to the floor and auctioned a second time, either because the bank rejected the bid price or the winning bidder the 1st round had something wrong with their paperwork, or money, or whatever. In 2 of the cases, the 2nd time got a higher price, but in all the others, the 2nd bid ended up lower than the first time around.
VERY FEW PROPERTIES WERE IN VINTAGE VEGAS
I've been seeing and saying all along that the "foreclosure problem" was primarily a suburban issue. Very few of the 2004 and 2005 speculators that ran up our market were buying vintage homes in our classic or undiscovered neighborhoods.
There were only 5 Vintage Vegas homes that I was tracking. I was there with buyers who were willing to bid on 2 of them. I intentionally didn't mention 16th Street on the Blog since I already had someone bidding on it. We dropped out at 270k, and it went to 280k the first time and 285k the second time. In both cases, the bank foolishly didn't accept either bid.
The most interesting case is the Rancho Bel Air Home on Dalmation. We dropped out at 450k, and the bank turned down the final bid of 545k in the first round. It got auctioned again and only got bid up to 530k in the second round. It was also one of the few homes that didn't go to contract.
The other 3 were a duplex in Fran Park 1 which went for $155, the Fran Park 2 on Talbot which sold for 140, and the Paradise Palms home on Cabalerro which sold for $155,000.
The vast majority of the homes that were auctioned yesterday were less than 7 years old. I had researched many of them out of curiosity. Almost every one of them had been a rental for 1 or 2 years before the bank took it back. Many were still in great condition, though some had been trashed.
As a generality, the homes were selling for about 2/3 of the "previously valued" priced that was shown in the brochure. The previous value was the list price that the banks had put on the properties when they were listed for sale in the MLS before being put in the auction.
Similar Foreclosure Auctions In Las Vegas Will Be Announced
There's bound to be a few more of these auction. I'll be posting dates and links the moment I become aware of them. In the meantime, you can do a few things to get ready for them.
First, start working on your credit scores.
Second: Start saving up, as you HAVE to have money to buy now a days.
Third: Get a with a good Mortgage Lender and Realtor (hint hint) to help you put a plan in place. This is really important whether you're going to try to buy at auction, or in the open market.
Posted by Jack LeVine | Currently Comments Off on Notes & Results – Las Vegas Foreclosure Real Estate Auction