Lawyer's Row Topics
Welcome To Uncle Jack's Very Vintage Vegas!
Vintage Las Vegas Homes,
Historic Las Vegas Neighborhoods,
Las Vegas History,
Urban Living In Las Vegas.
If it's great, cool, fantastic, artistic, annoying, amusing, unique, or surprising.. you'll find it at VeryVintageVegas.com.
Check out what we're doing and add your two cents! Your comments & ideas are welcome. We update daily, so come back tomorrow!
Blogroll
Farmer's Insurance
Paul Hesselgesser
702-434-1230
The Hesselgesser Insurance Agency Website
Classic Las Vegas - Lynn Zook's Preservation of 20th Century Las Vegas
Curbed LA - WOW!
Mid-Century Modernist
RETRO RENOVATION - Pam's Excellent Effort At Re-creating A Retro Life
Carnival Of Real Estate - Minus Elephant Ears, But Still Mighty Tasty
Lotta Livin' - A Celebration Of Really Cool Things Mid Century
Bawld Guy Talking - Minus The Hair; Plenty Insightful
CoolnessIsTimeles - ALL "RAT PACK" ALL THE TIME!
SEE ALL OUR FAVORITES HERE

Lawyer's Row
April 21st, 2008 Categories: ART, Arts District, Downtown Businesses, Downtown Las Vegas, Lawyer's Row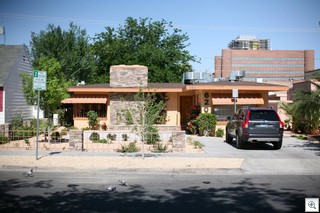 Michelle Quinn, The forrmer director of the Godt-Cleary Gallery has opened shop in "lawyer's row". Once again, Kristen Peterson of The Las Vegas Sun tells the story.
More good press for the new downtown that we love so much.
If you've never driven thru "lawyer's row" you're in for a pleasant surprise.
You'll find it on the north side of Charleston East of Las Vegas Blvd. Technically, its part of the "Las Vegas High School Historic Neighborhood". Most of the homes on 6th, 7th and 8th streets are now commercial. From 9th to 11th, the neighborhood is still transistioning to Commercial.
We mentioned the area a few weeks ago when we showed one of my favorite little apartment buildings on 11th Street.
Posted by Jack LeVine | Currently Comments Off on "Lawyer's Row" In Downtown Las Vegas Is Now Part Of The Arts Scene As Well