Mayfair Topics
Welcome To Uncle Jack's Very Vintage Vegas!
Vintage Las Vegas Homes,
Historic Las Vegas Neighborhoods,
Las Vegas History,
Urban Living In Las Vegas.
If it's great, cool, fantastic, artistic, annoying, amusing, unique, or surprising.. you'll find it at VeryVintageVegas.com.
Check out what we're doing and add your two cents! Your comments & ideas are welcome. We update daily, so come back tomorrow!
Blogroll
Farmer's Insurance
Paul Hesselgesser
702-434-1230
The Hesselgesser Insurance Agency Website
Classic Las Vegas - Lynn Zook's Preservation of 20th Century Las Vegas
Curbed LA - WOW!
Mid-Century Modernist
RETRO RENOVATION - Pam's Excellent Effort At Re-creating A Retro Life
Carnival Of Real Estate - Minus Elephant Ears, But Still Mighty Tasty
Lotta Livin' - A Celebration Of Really Cool Things Mid Century
Bawld Guy Talking - Minus The Hair; Plenty Insightful
CoolnessIsTimeles - ALL "RAT PACK" ALL THE TIME!
SEE ALL OUR FAVORITES HERE

Mayfair
January 15th, 2008 Categories: Downtown Las Vegas, Huntridge, Las Vegas Real Estate News, Mayfair, OUR LISTINGS
Here's some of the pictures of our two new listings. You'll notice they're considerably better than what we would find in one of my worst MLS photo posts. But they're not perfect. There's a lot I don't know, but plan on learning (in my free time?) about photo editing and photography in general. I've always been a point and shoot type guy. Now I'm really starting to think about it at a higher level.
I think I've finally learned how much I don't know about photography. Since Kay Athol, the Photographer/Realtor, (who's one of many out of state agents who read VVV), fixes pictures for other agents. He tweeks, and pulls and does all kinds of things to make pictures look better. So, since he's likely to read this soon, I challenge him to pick one of these and give them going over. That will give me a chance to put the picture up again.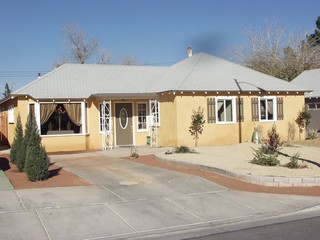 I'm real proud to have been asked to guide this seller thru the process of getting the property sold. It's a real sweatheart of a Huntridge Cottage.
It's hard to believe from this shot of the front that it's almost 1800 sf, and has a two car garage in the back yard.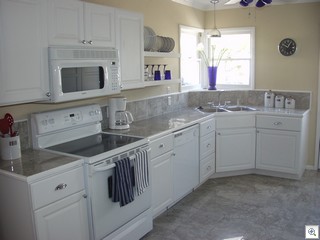 The neighbors are real happy that the home now looks so terrific. A few months ago, it was a broken, sad, bank foreclosure.
One of the biggest kicks I get is when I see one of our beat up vintage homes get transformed so well. All of the pictures are in the gallery on the left hand column.
Do you know someone who'd be perfect for a home like this, or any of the other great home that we have for sale in Vintage Vegas?
Have them Contact Me, I answer my own phone and email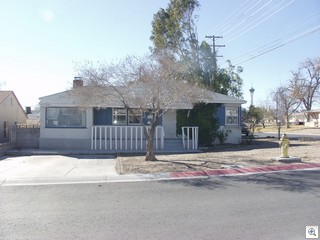 There's a little part of Vintage Vegas which hasn't been "discovered" yet. It's called Mayfair, and sits inside the triangle of Maryland Parkway, Charleston and Fremont. It's seeing some signs of life, though.
One of the brighter (among many) spots in Mayfair is our new listing on Manzanita Ave.
The sellers loved this home the minute they saw it. They improved a lot of things in their 5 years of ownership. All the big ticket bones-of-the-home items have been addressed, and it's clean, well painted and the wood floors are polished to a shine.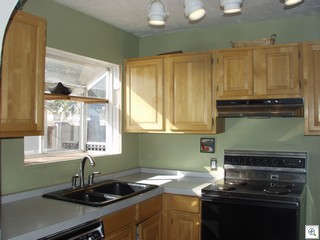 There's a lot of vintage elements such as the front porch, wood floors and the 50's bathroom to give the home a lot of character.
All of the pictures are in the gallery, which you'll find under "featured Properties" in the left sidebar.
I'd be happy to show you (or someone you know) my listings or any other property that's for sale in Very Vintage Vegas.
It's the best way I know to make new friends in Vintage Vegas. There's never any pressure, but be forewarned, I DO BELIEVE IN MY PRODUCT, and think you should, too.
P.S. My product isn't the unique homes of Vintage Vegas. My product is my 18 years experience, reputation, enthusiam and ability to get the job done.
Posted by Jack LeVine | Currently 4 Comments »