Welcome To Uncle Jack's Very Vintage Vegas!
Vintage Las Vegas Homes,
Historic Las Vegas Neighborhoods,
Las Vegas History,
Urban Living In Las Vegas.
If it's great, cool, fantastic, artistic, annoying, amusing, unique, or surprising.. you'll find it at VeryVintageVegas.com.
Check out what we're doing and add your two cents! Your comments & ideas are welcome. We update daily, so come back tomorrow!
Blogroll
Farmer's Insurance
Paul Hesselgesser
702-434-1230
The Hesselgesser Insurance Agency Website
Classic Las Vegas - Lynn Zook's Preservation of 20th Century Las Vegas
Curbed LA - WOW!
Mid-Century Modernist
RETRO RENOVATION - Pam's Excellent Effort At Re-creating A Retro Life
Carnival Of Real Estate - Minus Elephant Ears, But Still Mighty Tasty
Lotta Livin' - A Celebration Of Really Cool Things Mid Century
Bawld Guy Talking - Minus The Hair; Plenty Insightful
CoolnessIsTimeles - ALL "RAT PACK" ALL THE TIME!
SEE ALL OUR FAVORITES HERE

January 26th, 2010 Categories: Las Vegas Real Estate News
City Budget Issues And 'Your City, Your Way' Resident Input Results Will Be Presented
Las Vegas residents are invited to join Mayor Oscar B. Goodman and their ward city council representative at Town Hall meetings held at various times throughout the city. Budget issues, including potential reductions in programs and services, and a summary of the "Your City, Your Way" resident survey results will be presented.
As part of the "Your City, Your Way" Initiative, Las Vegas residents weighed-in on city services and resources, and on what works and what doesn't through several forums including focus groups and a phone survey. The resident input will be used by city management and the City Council to help make informed, strategic decisions based on resident priorities. During the town hall meetings, city staff will present information on the city's budget shortfall and potential reductions.
City of Las Vegas residents are encouraged to attend one of the Town Hall meetings scheduled at various locations throughout the city. They will take place:
Jan. 27, 6:30 to 8:30 p.m. – Ward 3: East Las Vegas Community Center / Ballroom, 250 N. Eastern Ave.

Feb. 9, 6:30 to 8:30 p.m. – Ward 6: Centennial Hills YMCA, 6601 N. Buffalo Drive

Feb. 16, 6:30 to 8:30 p.m. – Ward 2: Veterans Memorial Leisure Services Center, 101 S. Pavilion Center Drive

Feb. 18, 6:30 to 8:30 p.m. – Ward 6: Northwest Career and Technical Academy / Training Room, 8200 W. Tropical Parkway

Feb. 22, 6:30 to 8:30 p.m. – Ward 3: Las Vegas Chuck Minker Sports Complex, 275 N. Mojave Road

Feb. 24, 6:30 to 8:30 p.m. – Ward 5: Southern Nevada Health District / Clemens Room, 625 Shadow Lane

Feb. 27, 10 a.m. to Noon – Ward 1: YMCA Meadows Lane, 4141 Meadows Lane

March 1, 6:30 to 8:30 p.m. – Ward 4: Starbright Theater, 2215 Thomas Ryan Blvd.

March 4, 6:30 to 8:30 p.m. – Ward 1: Charleston Heights Arts Center / Theater, 800 S. Brush St.
For more information and to view the results of the recent phone survey, visit www.lasvegasnevada.gov/yourcity or call 229-6501. To learn about the many services, events and facilities available to residents visit the city Web site at www.lasvegasnevada.gov.
Posted by Jack LeVine | Currently No Comments »
January 26th, 2010 Categories: Las Vegas Real Estate News
I want to thank all of you (about 150 people altogether) who stopped by for the tour of the Revision House. It was a lot of fun, and it was my pleasure to be able to have arranged it. If you'd like to give some feedback, just click on the comments link below.
I learned a lot about how we can spend lots of money to save energy on our "old" houses. The new technologies are terrific, but you have to spend money to save money. Few if any of us are ever going to take a house down to studs and re-do it to the lengths that were taken on the ReVision House. I did learn from some of the experts that the first 20 or 30% of energy savings don't have to be expensive. In fact they're downright cheap compared to the savings.
Craig Savage, (the owner of Building Media, who was the driving force behind the ReVision House) and I had several conversations on the subject. He outlined the simple first steps that all homeowners should be taking. Homeowners with 40, 50 and 60 year old homes should especially heed this list. That's most of us who live in Vintage Vegas.
First, and cheapest, and with the greatest impact is the "weatherization". CAULK and WEATHERSTRIPPING are our best friends. Craig says that this alone can reduce the energy consumption by 15 to 20%. Any cracks in the stucco or siding are letting in the wind. Gaps between the window frames and the siding or stucco are also big culprits in air penetration. It crawls thru and finds it's way into the house from under the baseboards and the electrical outlets and anywhere it can get through. I did a real good job caulking up the house before I repainted the outside a few years ago. Have I looked around real well since? Have you? Go take a good look around every window and door. A few tubes of caulk could save a bundle. The US Department of Energy has lots more information, and so does Energy Star and the Consumer Energy Center
Weatherstriping is about air intrusion in the parts of the home that move, such as windows or doors. I'm guilty myself, and really need to follow this advise. My own front door doesn't seal well when the dead bolt isn't latched. The whole door needs adjusting, since you have to pull the door tight to latch the dead bolt. If it's just closed by the doorknob striker, you can see the light around the bottom. At least it finally got me into the habit of locking the deadbolt! What's your door doing? Here's some Weatherstripping tips from the Do It Yourself Network.
Craig says the second biggest "bang for the buck" is SEALING THE DUCTWORK. When they do energy audits of a home, they often find that the duct work leaks. When I send our inspector into the attic during the home inspection for new buyers, it's not uncommon for him to find entire ducts that totally disconnected, and have been blowing hot and cold air into the attic. This isn't just a leak, it's a travesty. Recently, Glenn (my favorite inspector, and one of only a handful of "master inspectors" came down from the attic and told us one of the ducts to a bedroom was totally not connected to the vent. The seller was there and said, "we never used that bedroom because it was always too hot or too cold". It had been that way the entire 10 years he owned the house!
Our older homes were typically built with metal tube ductwork. The individual pieces stick into each other like the attachments of a vacuum cleaner hose. However, they don't fit well, and lots of heated or cooled air is being blown into the attic or the chases. Duct tape is good for EVERYTHING BUT sealing ducts. Don't use it. For more information, Check out the duct sealing page from Energy Star or their brochure on the subject in PDF format. HGTV has a Video on duct sealing if you're willing to watch a commercial first.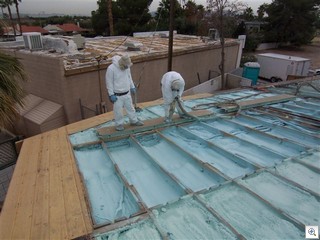 Third on the list is attic insulation. In the ReVision House, they took off the entire roof and sprayed it with foam. It's really the only practical solution for the flat and low pitched roofs of the typical "desert modern" home. For those with attic space, however, blown in cellulose insulation, or bats of fiberglass are the best solution. The Energy Star website is good place to start learning about insulation.
Window replacements are actually 4th on the list of improvements for energy conservation. Single pane glass radiates the heat and the cold, but it's not nearly as bad as cold or hot air penetration that can be fixed with the weatherproofing and duct sealing. Windows are where we start getting into the big money.
Upgraded Heating and Air units are 5th on the list, and also require a big outflow of up front cash. You'd be better served doing the first steps first.
Posted by Jack LeVine | Currently 5 Comments »
January 21st, 2010 Categories: Las Vegas Real Estate News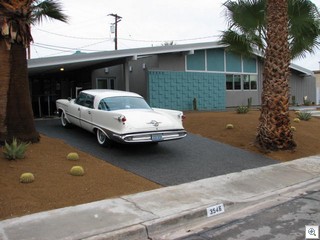 And we've finally got pictures of the finished home that's being showcased this week during the International Homebuilder Show here in Las Vegas.
I've arranged Sunday's Tour/Open House is for not only for the readers of VeryVintageVegas, but for all locals, so you're invited bring friends or family as well. Stop in anytime from Noon to Three PM on Sunday January 24.
The address is 3546 Pueblo Way, in the Mid Century Modern Neighborhood of Paradise Palms.
From Desert Inn and Eastern, go south on Eastern to Pueblo Way, which is the first street on your right. VeryVintageVegas open house signs will be up to direct you.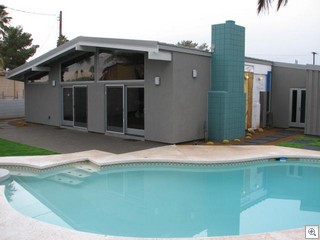 When you're there, you'll find signs and brochures describing all the very very green elements that have gone into create a net zero energy home.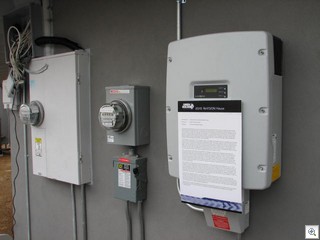 Energy Monitoring hardware can sell power the solar generated electricity back to the power company.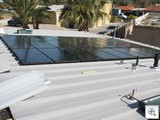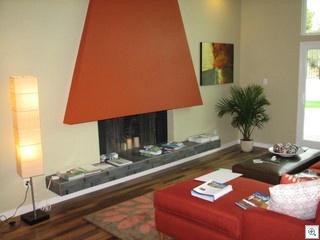 The decor is also a big element of the overall package, since just about everything that is used in the house is "green". The words renewable, sustainable, recycled, describe it all.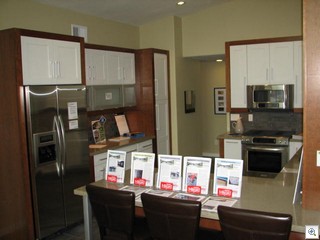 All the manufacturers are touting the green production standards that are used in creating their products.
Even the Dupont Corian countertops are now made using recycled materials.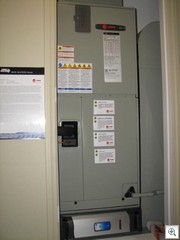 20 Seer Air Conditioning? I didn't even know that it could get that efficient.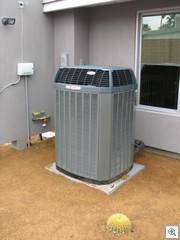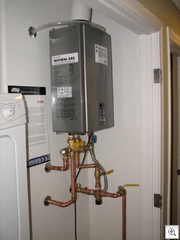 You can learn about on demand water heating as a back up to the solar water heating that's roof mounted.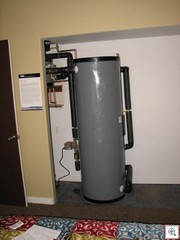 I've been asked many times whether the house will be sold after the show. Oh that were. The owners are keeping it for now.
So this is emphatically not an open house in the Real Estate sense. Let's call it a tour to showcase state of the art energy conservation retrofitting of a 1960's Mid Mod.
Posted by Jack LeVine | Currently 2 Comments »
January 19th, 2010 Categories: Market Conditions
The most common expression in the Real Estate world today is "FRUSTRATED FHA BUYER". It applies to their agents as well.
The vast majority of the bank owned properties on that come to market are broken, neglected, vandalized, abused bombed out houses. They do not qualify for FHA financing, which is how 90% of the buyers are buying today. Almost all other forms of conventional financing have gone away if you don't have a BIG down payment. FHA has a "livability standard" that the property has to meet. It can be ugly, but it can't be broken. It has to be functional without the buyer HAVING to spend money after the close to get the furnace or plumbing working or to install new bathrooms, or carpet/flooring etc. These houses get sold to investors.
The bank owned foreclosures that can meet the FHA livability standard are few and far between, and often the banks are taking cash investor offers for less than the FHA buyers are offering. There's way too many first time home buyers for the number of FHA eligible properties. Frustration is the result.
To make things worse, even after the investor buys the foreclosure, fixes and cleans and decorates it up, FHA says that they can't resell it to an FHA buyer for 90 days, and that even after 90 days, it can't sell for more than 20% over what the investor paid. That's the anti flip rule that's being waived starting February 1.
THIS IS HUGE.
To keep the new rules from being abused, and to keep the buyers from being gouged, there's 2 new provisions going into effect. The underwriter can require 2 independent appraisals, and the property will now HAVE to be inspected, and the underwriter gets to see the inspection report. We've always REQUIRED buyers to get the homes inspected, but the results became negotiating points with the seller, and often, broken things got left for the buyer to fix as part of the negotiation. Now the underwriter will be able to force the seller to fix things that might have been glossed over, or negotiated away previously. VERY GOOD!
The new guidelines are on the HUD website, and here's the press release that came out this morning.
HUD TAKES ACTION TO SPEED RESALE OF FORECLOSED PROPERTIES TO NEW OWNERS
Measure to help bring stability to home values and accelerate sale of vacant properties

WASHINGTON – In an effort to stabilize home values and improve conditions in communities where foreclosure activity is high, HUD Secretary Shaun Donovan today announced a temporary policy that will expand access to FHA mortgage insurance and allow for the quick resale of foreclosed properties. The announcement is part of the Obama administration commitment to addressing foreclosure. Just yesterday, Secretary Donovan announced $2 billion in Neighborhood Stabilization Program grants to local communities and nonprofit housing developers to combat the effects of vacant and abandoned homes.
"As a result of the tightened credit market, FHA-insured mortgage financing is often the only means of financing available to potential homebuyers," said Donovan. "FHA has an unprecedented opportunity to fulfill its mission by helping many homebuyers find affordable housing while contributing to neighborhood stabilization."
With certain exceptions, FHA currently prohibits insuring a mortgage on a home owned by the seller for less than 90 days. This temporary waiver will give FHA borrowers access to a broader array of recently foreclosed properties.
"This change in policy is temporary and will have very strict conditions and guidelines to assure that predatory practices are not allowed," Donovan said.
In today's market, FHA research finds that acquiring, rehabilitating and the reselling these properties to prospective homeowners often takes less than 90 days. Prohibiting the use of FHA mortgage insurance for a subsequent resale within 90 days of acquisition adversely impacts the willingness of sellers to allow contracts from potential FHA buyers because they must consider holding costs and the risk of vandalism associated with allowing a property to sit vacant over a 90-day period of time.
The policy change will permit buyers to use FHA-insured financing to purchase HUD-owned properties, bank-owned properties, or properties resold through private sales. This will allow homes to resell as quickly as possible, helping to stabilize real estate prices and to revitalize neighborhoods and communities.
"FHA borrowers, because of the restrictions we are now lifting, have often been shut out from buying affordable properties," said FHA Commissioner David H. Stevens. "This action will enable our borrowers, especially first-time buyers, to take advantage of this opportunity."
The waiver will take effect on February 1, 2010 and is effective for one year, unless otherwise extended or withdrawn by the FHA Commissioner. To protect FHA borrowers against predatory practices of "flipping" where properties are quickly resold at inflated prices to unsuspecting borrowers, this waiver is limited to those sales meeting the following general conditions:
• All transactions must be arms-length, with no identity of interest between the buyer and seller or other parties participating in the sales transaction.
• In cases in which the sales price of the property is 20 percent or more above the seller's acquisition cost, the waiver will only apply if the lender meets specific conditions.
• The waiver is limited to forward mortgages, and does not apply to the Home Equity Conversion Mortgage (HECM) for purchase program.
Specific conditions and other details of this new temporary policy are in the text of the waiver, available on HUD's website.
Posted by Jack LeVine | Currently No Comments »
January 15th, 2010 Categories: Las Vegas Real Estate News
YOUR ARE INVITED to the special OPEN HOUSE that I've arranged for all the Very Vintage Vegas readers (and their friends).
Sunday January 24, from Noon to 3 pm.
Things are really shaping up at the ReVision House In Paradise Palms. They're certainly working faster than I've been able to report on it. Let's get caught up.
Last we looked in, they were doing the spray foam insulation.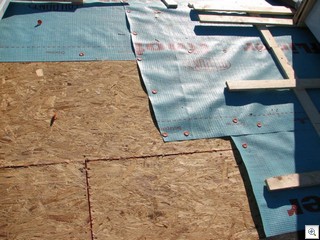 The roof followed soon after and I was able to get these pictures midway thru it. The roof is metal and is suspended over the top to allow total air circulation
The first layer is the 5/8th inch OSB for the foundation. At the Revision house, Dupont's Roofliner material is used as the underlayment membrane.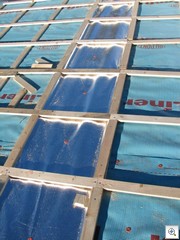 1 x 3 spacers are applied next in 2 foot intervals, from eave to ridge,and then topped by another set laid horizontally. The spacers provide a 1.5 inch gap under the roof which draws hot air up and out of the roof ridge ridge vents.
The foil looking strip down the center of is where the electronic sensors are buried in the foam insulation . They monitor the roof temperature, and the information is fed to the control panels for the house.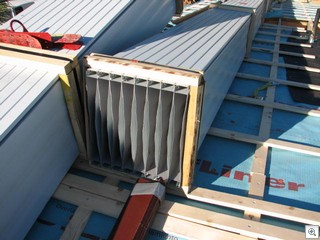 The actual roof material is MBCI BattenLok. It's a standing seam ENERGY STAR "cool" metal roof.
The pieces are seamless, factory cut to length and bolt down to the spacers.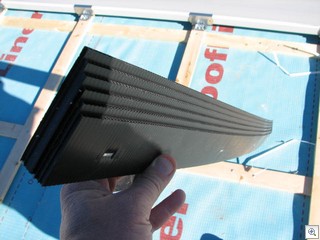 Soffit and ridge venting allow the air to move under the metal roof. They're attached all along the perimiter of the roof, under the drip edge.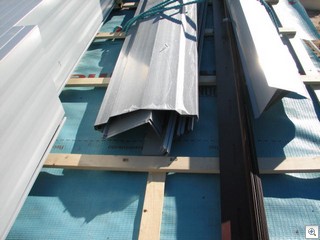 The metal ridge caps allow the hot air to escape and keeps the roof from becoming a heat trap.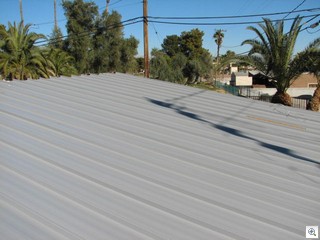 GreenBuilder Magazine, which is one of the sponsors of the project has much more information, especially in this brochure.
Posted by Jack LeVine | Currently 2 Comments »
January 14th, 2010 Categories: Las Vegas Real Estate News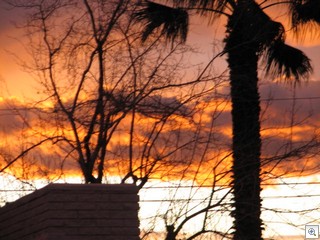 In case you didn't get out for the sunset last night….It was pretty spectacular. I guess the western edges of town got quite a downpour, but Vintage Vegas got the sunset!
Third wave of the Cold and Flu season is finally breaking for me.
Starting to feel better again. I've been sick almost continuously since the first of December. Just couldn't shake it. I barely stayed ahead of the absolute most important workload for the buyers and sellers.
I want nothing more to get back into the routine of daily blogging. I hope you've all stayed with me.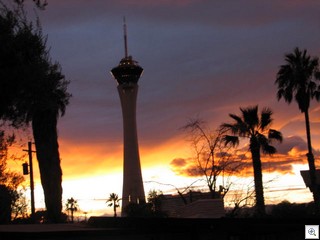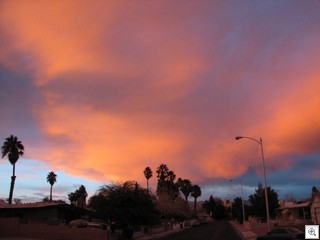 Posted by Jack LeVine | Currently 1 Comment »
January 8th, 2010 Categories: Las Vegas History
Dan Ball from Channel 3 news called. Being Elvis's birthday and all….he's doing a story for the 5 and 6 pm news today about the "Elvis House" that we featured on VeryVintageVegas back in August and September of 2008. You can see the original stories HERE, and HERE.
I'm republishing our first story for you:
Where Did Elvis Go When He "Left The Building" In Las Vegas?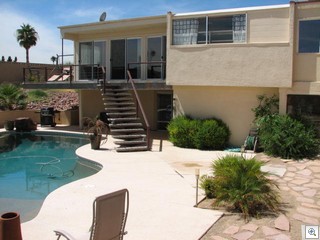 Once upon a time, there was an amazing hideway that was owned by the International Hotel, which later became The Hilton Hotel. They used it as a private, exlusive retreat for the headliners. Elvis slept there. So did Dean Martin, Tonya Tucker and many others. It's always been referred to as "the Elvis House".
My mother drove me by it and told me the story during one of my first visits to Las Vegas in 1975. I've never verified any of the details of the history or the folklore, but even then she told me it was one of the private hangouts for all kinds of strip entertainers.
The Hilton sold the property in 1974 to Joseph Macchiaverna, a violinist (who doesn't have even a single google hit. Anyone know anything about him?). In the 90's they subdivided the property and built the infill "villas" that surround it to this day.
The brief third owner, Michael Michaels, was an Elvis impersonator himself, according to the current owners who acquired the proerty in 2006.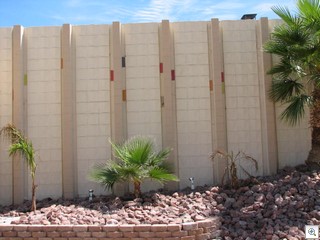 At the time, it was all by itself out in the desert near what would become the intersection of Eastern and Desert Inn. Like everything else in Las Vegas, it was encroached upon by more development. It's still a little island of mid mod paradise on an 17000+ foot lot.
It's been listed for awhile. I didn't pay it much mind when it was $700,000 but the price was just dropped to $410,000 subject to shortsale rules. I thought you'd like to see the pictures, and if you're into something really crazy and off the wall, as well as off the beaten path, I'd be happy show it to you.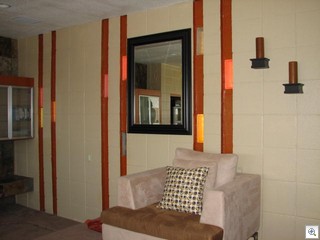 The colorful blocks in the face of the home are actually colored glass which lite up the living room.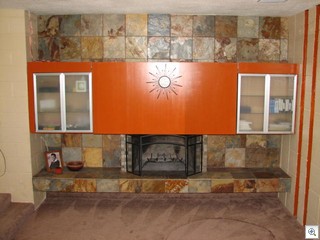 There's been a lot of use of slate tiles in the home. They're on the front, as well as the stairs, fireplace and flooring.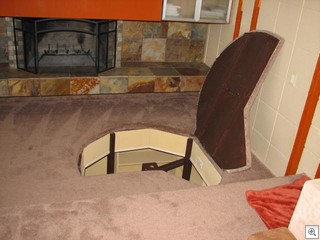 There's 2 circular staircases in the home. One leads up from the "music room" thru a trap door in the floor in front of the fireplace.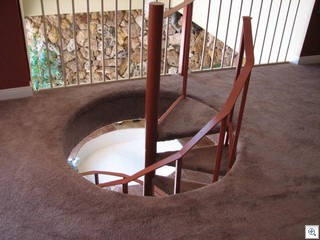 The master bathroom is a 2 story atrium of glass and Lava Rock which also is accessed by a circular staircase up to the master bedroom.
There just wasn't a good angle to show it, but the white oval in the middle of the staircase is actually the master tub.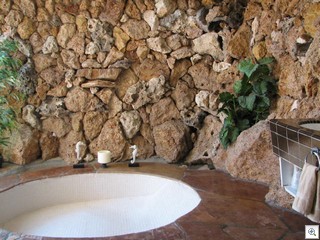 The garden tub in the master bath is surrounded by the lava rock waterfall.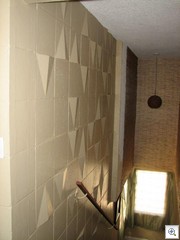 The original pyramid shadow block is used on the stairway, leading up to the kitchen and living area. The living room and kitchen as well as the bedrooms are all on the upper level of the home.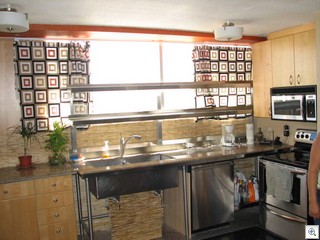 The kitchen is updated and very functional with double fridges, and stainless steel appliances. The stainless steel kitchen sink was salvaged from _________hotel kitchen. They told me which one, but I forget. (I know…shame on me, but I'll call the seller for a reminder and fill in the blank).
Posted by Jack LeVine | Currently 2 Comments »
January 8th, 2010 Categories: Las Vegas Real Estate News
The ReVision House, on Pueblo Way in Paradise Palms is a BEEHIVE of activity. Time is running short. The property is supposed to be ready for the January 21st International Homebuilders Show. They say it will be done! Talk about an amazing race.
During the time the county was putzing around with permits and engineering changes and creating all kinds of delays, the demolition, plumbing and electric and framing were all finished. There wasn't much to report as it didn't really effect the energy conservation that is the goal of the project.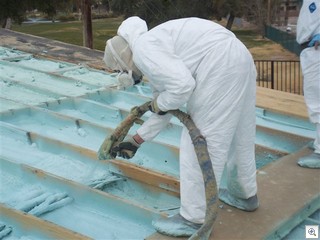 But now, it's time to catch you up on the "green" aspects of the ReVision House. First to be installed is insulation. The newest techniques involve filling ALL the exterior cavities of the house (between the walls). Traditionally, bats of insulation were used. They had lots of air gaps, poor coverage, and didn't seal the house for air penetration.
The newest methods involve high density spray foam.
Gale insulation of St. George, Utah, a MASCO company, is shown installing high density foam insulation in the rafter cavities of the ReVision House. BASF Comfort Foam was chosen as the product to be used. It sprays on as a liquid and then expands to fill the cavity. It completely fills in all gaps and joints for an airtight seal. Excess can be shaved off, prior to installation of the wall, ceiling or roofing materials.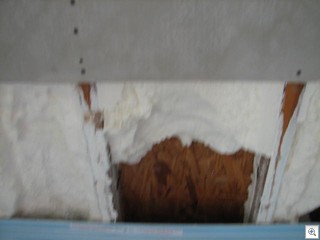 The BASF Comfort Foam can be installed from either the inside or the outside, depending on which side of the walls have been opened up.
Here you can see from inside one of the bathrooms where the exterior wall had been left in place, and the drywall had been removed from the inside.
They'll come back and fill the gap when they're done with the bathtub installation.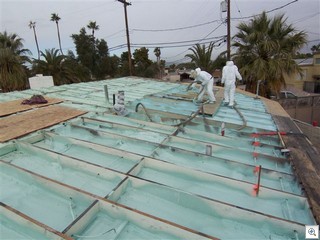 BASF's website has a little video showing the installation process. I visited the house on Monday when the roof was being done.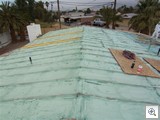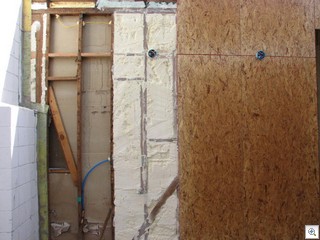 The side wall part of the installation was already complete. When we get a chance to visit the house, we'll find what they call a "proof wall". One of the shorter spans of exterior wall next to the fireplace will be left open to show all the various stages that go into super insulating the home. Here's a picture of it as it was on Monday with just the expanded foam in place.
The foam will be covered with a 1/2 sheet of plywood or particle board, and then there's another 2 inch thick sheet of insulation styrofoam that's nailed over the entire surface of the exterior walls. The final result is an AIR TIGHT R-15 sidewall, which is about the most that can be obtained in a retrofit with 2×4 construction.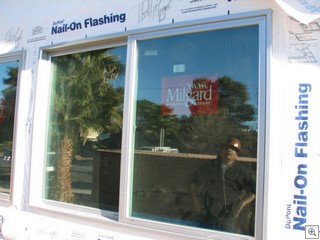 Tomorrow, we'll catch up on the window installation, and making the house water proof.
The windows are all triple pane, argon filled, Low-e glass in fiberglass extruded mold frames from Milgard. You'll like that they chose an "aluminum finish" for the frames that will look just like the original 1963 windows. Thankfully – NO WHITE VINYL!
Posted by Jack LeVine | Currently 6 Comments »
January 6th, 2010 Categories: Las Vegas Real Estate News
It's a dilemma we've all faced at one time or another. Sometimes it's just personal. Sometimes it's family. Occasionally it is a community as a whole.
I've hinted that December was a rough month for me. Two major bouts of cold/flu, a wrecked car, Mom was in the hospital for 20 days, and a "Holiday Loneliness" that I've never, ever, experienced before.
I've been searching for the one right word that best sums it all up. I've settled on "DELAY". Delayed recoveries, delayed grieving, delayed blogging, delayed closings, delayed parts for the car. Far too many nights of delayed sleep, delayed eating, and on and on.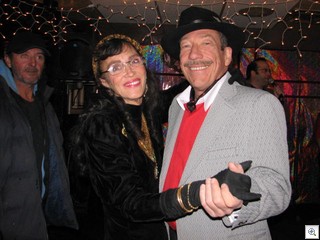 I spent most of December begging for it to be January. A "New Year" was just what the doctor ordered. I managed to get out of the house with best friend Mary Joy for New Years Eve. It was the first time EVER that I was to go out on that night. JJ had adamantly always refused for his own reasons and because the beagles have always been terrified of fireworks. But this year I made it. A special party night spent with special people. A hugely fun success, except for the ascot which just wouldn't stay in place. Cary Grant made ascots look easy.
New Years Day brought First Friday. The cold shower at 4pm delivered the good news that the water heater had "burst". The flood only delayed FF by a few hours, but I made it. I'd planned on spending Saturday and Sunday writing THIS blogpost, re-organizing my computer and getting the year going. I spent it shopping and installing the new water heater. TWICE! The first one leaked from the drain valve. Only THREE trips to Lowes/Depot. Delay Delay.
But that's all over now. The water is hot, the storage room is clean, the desk is clear, I slept 7 hours straight thru, and I'm sitting here typing! Oh, happy 6th of January.
It hasn't been just me that was on delay…
There were some other delays going on that caused you to be left hanging. We've got a house in Paradise Palms that's being re-built and greened up for the International Home Builders Show. The project has been officially named "The ReVision House". They're weeks behind schedule. Delayed by the county building department. The engineering had to be re-done several times. The clerestory window had to get re-ordered to be able to be fit into the newly engineered window spaces. The plumbing and heat/ac permits took longer than expected as well. At least it's all being permitted! I'll do a post tomorrow to catch you up on the progress that is being made. They say they'll get it done on time.
The TV show "Desperate Landscapes" will be announcing it's "cast" this week. To my knowledge, 9 of you applied. In fact, almost every single applicant they have heard about it from VeryVintageVegas. THEY'VE NOW ASKED ME to line up a "fabulous landscape" that they can showcase at the same time. Any volunteers? Don't delay. They need to pick one this week.
The BIGGEST DELAY…
The biggest DELAY of all has been the delayed "regentrification" of the historic neighborhoods and Mid Century Modern Homes of VeryVintageVegas. At least it seems that way. The economy has not been good for us. Many once beautiful landscapes have died. Too many homes that converted from owner to tenant. Carpetbagger investors are trying to make a killing without making any improvements. Frustrated would-be owners who have been shut out by the investors. Business closings. Vacant storefronts. Vacant homes. Draconian Lending Guidelines. New rules by Fannie Mae should make it easier for the first time buyers to get first preference for the bank owned homes, and new short sale rules should help as well. New rules are now in place to help underwater homeowners to keep their homes. We've spent a year waiting for the banking industry to figure out what the hell their doing. The Feds are stepping in and forcing the banks to get their act together.
And even still, countless new residents of Vintage Vegas are busy painting and landscaping and fixing and encouraging their neighbors to do the same. There's new blood, and new hope and new energy arriving daily.
WE'RE STARTING OVER! Much of the spirit of VeryVintageVegas has survived. Barely. We need to pay tribute to the shopkeepers that have managed to stay open. To the new entrepreneurs that opened up during the recession. To name a few: The "Las Vegas Rocks" in Neonopolis, Firefly and Omelet House at the Union Plaza, Namaste at Commercial Center. Tinoco's at the Las Vegas Club, Paymon's at the Arts Factory.
New Stores and Galleries are opening as well. Gaia Flowers and Gifts took a big gamble to all of our benefit. Brett Wesley Gallery opened it's fabulous new Mid Mod Gallery. The newly relocated Southern Nevada Center for the Arts is looking great. Michael Cornthwaite and Jennifer Harrington are opening a new artists lofts and "creative space" on Fremont Street next week. "Place" and "Space" and many more.
The Mayor SWEARS we're getting a new city hall and a new arena and a new NBA basketball franchise. Smith Center for the Performing Arts is under construction, Lou Ruvo Brain Center and Cleveland Clinic is soon to open. The ACE RAPID TRANSIT system thru downtown is almost finished. The Mob Museum, Neon Museum, Las Vegas Scenic Byway Neon Project are coming along as well. Fremont Street Experience is packing them in. The Fremont Street Entertainment District is a late night hot spot. "Don't Tell Mama" is a huge success. The Griffith and Beauty Bar, and Downtown Cocktail Room are packed every night. The Electronic Music Cafe opened this week on Main Street.
And one of my most ardent supporters, and best friend, Brian Paco Alvarez has started a new blog that will round out the whole spectrum of Urban Cultural Life in Las Vegas. "EnculturateLasVegas" will bring together all the cultural news, events, and commentary in Urban Las Vegas. I've tried to cover 4 key topics during the 3 years we've been blogging here. I'm passing the "cultural torch" to Paco. Lynn Zook at "Classic Las Vegas" took over the Las Vegas History several years ago. That leaves "VeryVintageVegas" with the "Historic Neighborhoods" and "Mid Century Modern Homes". Between these 3 blogs, I think we've got it all covered extremely well. And if you want to know about the FUTURE of Las Vegas, Mark Adams is back and blogging again at "VegasTodayAndTomorrow". ALL FOUR blogs should be on your daily reading list.
Unless I'm "delayed", this should be the first of a several part series. I'm going to tell you the story of how I came to be the biggest supporter and promoter of a new urban lifestyle in Las Vegas. I'll be telling you about the Historic neighborhoods surrounding downtown, as well as the Mid Century Modern Revival Movement that's sweeping the world. We'll keep you linked to the culture and the history and the future. I'll get out of the damn house and take pictures of everything I see and tell you all about the people we meet, and keep you up to date on the Las Vegas Real Estate Market. I think TWENTY TEN could be a very exciting year.
I'm SO happy it's January.
Posted by Jack LeVine | Currently 7 Comments »
December 31st, 2009 Categories: Las Vegas Real Estate News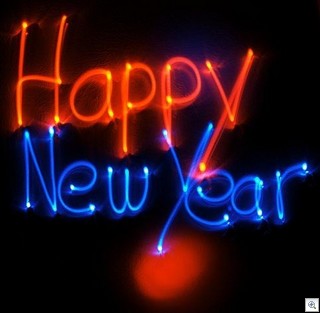 Is it over yet? 2009, I mean.
Worst year ever in so many ways for so many people. I'm always an optimist, but 2009 really did test us. I think the big banks ended up being the only big winners.
2010 has to be better. Hopefully it will be for everyone.
December was the worst month for me personally, in what lots of people are saying was the worst year ever. I'm real good at feeling guilty, and nothing has made me feel that way more than the lack of posting to the blog in the last 30 days. I'm resolute to get back into the swing of daily posting.
I wish you all the best for a safe, happy and prosperous 2010.
Posted by Jack LeVine | Currently 2 Comments »
December 29th, 2009 Categories: Arts District, First Friday
A great way to start the New Year would be a trip downtown to the monthly First Friday Arts Festival.
FIRST FRIDAY LAS VEGAS
January 1, 2010 6:00 pm -10:00 pm Here's the whole scedule of events.
Come down this month to enjoy both visual and performance art! . There will be tiki carving, video and DJs on stage, live improv on the street, artist, vendors and so much more!
Don't miss "Art in Tandem". Ricardo and Jesse, from Erie Pennsylvania, have traveled all over the world as "Art in Tandem " and have recently landed in Las Vegas. They will be easy to spot especially when riding their tandem bicycle. We will also be showing a video of them in front of The Funk House that details their various ensembles and travels in tandem.
Be sure to stop by the First Friday info table (in front of The Funk House) or Trifecta Art Gallery in the Arts Factory to buy your raffle tickets for the great Premium Outlets gift basket we have for January, including a $100 GIFT CERTIFICATE , Guess merchandise and much more! (you do not have to be present to win)
Donate to support First Friday: http://www.firstfriday-lasvegas.org/fundraise.html
Of Special Note – Don't miss:
D'Arte Designs POP-UP Galleries presents "An Eclectic Collection",
works by
Sigrid Brunel, Denise R. Duarte, Anita Getzler, Walt Heron, Arthur Jabob and MIKEL PATRIK.

Experience the energy of this confluence of artists who articulate their world visually by a variety of media. Abstraction to reconstructed realities flow from their creative centers to this place in time, the first day of 2010. Experience the new decade and new year in a refined and artful environment.

ONE NIGHT ONLY, First Friday, January 1st from 6:00 p.m. – 10:00 p.m. at Holsum Design Center, 241 W. Charleston Blvd., Suites 140&150.

Also open at Holsum Design Center on First Friday, H. Stephen Jackson/Architect Gallery in suite 175 and dining at Lola's, a Louisiana Kitchen. Trolley Stop.

For more information contact Denise with D'Arte Designs, 702-372-3755,www.dartedesigns.com
Posted by Jack LeVine | Currently No Comments »
December 29th, 2009 Categories: Las Vegas Real Estate News
If you're out and about and aren't spending a fortune to be somewhere "fancy", you could also stop in at Dinos on Las Vegas Blvd and Oakey. Lots of downtowners will be there. No cover, lots of karaoke.
I'm starting out at Dino's, an hour or 2 on Fremont Street, and plan on being at Don't Tell Mama on Fremont at 6th long before midnite. No cover there, either.
Lots of other's including the Arts Scene crowd will be at the Arts Factory for the "Galactic Dec-a-dance" NYE Ball.
30,000 or so will be on Fremont Street, and most of the Tourists will be on Las Vegas Blvd.
Regardless of whether you're staying in or venturing out…..Be safe…..And Happy New Year!
LAS VEGAS – December 29, 2009 – Las Vegas' famed Fremont Street Experience is ready for a rockin' New Year's 2010 Weekend celebration with its 2nd Annual TributePalooza. The spectacular New Year's Eve includes live concerts by eight of the world's best tribute bands, a 2009 year-in-review show on the Viva Vision screen, followed by a countdown to midnight with Las Vegas Mayor Oscar Goodman and then Fireworks by Grucci under the canopy choreographed to virtual fireworks on Viva Vision.

TributePalooza bands will deliver performances emulating classic favorites Aerosmith, Depeche Mode, Guns N' Roses, INXS, Led Zeppelin, No Doubt, U2 and Van Halen. Plus, there will be a live stage show, "Jimi Hendrix and the Psychedelic Ride."

New Year's Eve is the only day of the year with ticketed admission to Fremont Street Experience. Wristbands are $10 for locals with valid Nevada ID and $20 for out-of-state visitors. Fremont Street Experience is restricted to persons 21 and over on New Year's Eve. Wristbands can be purchased in advance by calling 702-678-5600.

The street will be packed with action while the giant Viva Vision screen dazzles with a light-and-sound extravaganza 90 feet above the street. The five blocks of the fabulous Fremont Street Experience, home to 10 legendary casinos, will be transformed into the biggest private party in Las Vegas, with upwards of 30,000 people in attendance.
Revelers are invited to celebrate the dawn of a new decade in true Las Vegas fashion at the city's one-stop outdoor entertainment venue. The night will be filled with music as the eight ultimate tribute bands will provide continuous live concerts on both 1st Street and 3rd Street stages from 6 p.m. until 1 a.m. The performance schedule is as follows:
Posted by Jack LeVine | Currently 1 Comment »
December 29th, 2009 Categories: Las Vegas History
Since I'm coming out of hibernation, let's throw a little Las Vegas History into the mix.
Nuclear Age Seminar at Atomic Museum
Tuesday, January 12th, from 6 pm – 8 pm
A discussion and lecture titled "From Splitting the Atom to the Cuban Missile Crisis: Writing the 1st Quarter-Century of the Nuclear Age," will be presented on Tuesday, January 12th, from 6 pm – 8 pm at the Atomic Testing Museum, 755 E. Flamingo Road, Las Vegas, NV 89119.
The Atomic Testing Museum, the Black Mountain Institute, and the UNLV History Department proudly present discussion panelists Dr. Martin Sherwin, Dr. Ruth Sime, and Dr. Mary Palevsky. UNLV History Professor, Dr. Andy Fry, will moderate the event. The speakers' combined research and knowledge of the development of the nuclear age ensures that the conversation will be both informative and thought-provoking.
Admission is $5 per person and free for museum members. Call (702) 794-5161 for more information. Click Here for more information and a money saving coupon to the museum exhibits and gift shop.
Posted by Jack LeVine | Currently No Comments »
December 16th, 2009 Categories: Las Vegas Real Estate News
One of the causes that's most dear to me – and I hope to you, as well – is the National Trust For Historic Preservation. Please read and respond, if you can, to their year end request for donations:
Protect Places That Matter
Ever since Ann Pamela Cunningham led the first effort to save Mount Vernon, the historic preservation movement has had as its guiding principle bringing people together to save the places that matter to all of us.
Over the years, our movement has evolved to encompass not just presidents' homes, but historic schools, parks, cemeteries, courthouses, rural landscapes, downtowns and a host of other places that help define us as a nation.
I am writing today to ask you to help sustain our work to preserve America's story and her places that matter with a generous year-end gift to the National Trust for Historic Preservation. Your support for our work is more important today than ever before.
Through our many successes, we've shown that preservation is good for the soul as saving places from the past preserves uplifting architecture, provides a solid foundation for building strong communities and maintains the stories that connect us as a people. But in these times, it is not enough to show that preservation is good for the soul, we must prove that it is good for the pocketbook as well.
Bluntly put, too many people think historic preservation is a "nice to support" activity, but one that is expendable when serious issues like education, economic development, and global climate change need to be addressed.

You and I know that historic preservation is not expendable, but is rather an important component of efforts to educate our youth, create local jobs and make our existing homes, neighborhoods and cities more energy efficient and sustainable.
We are at a critical time as a movement – a time when we must make sure that local, state and national preservation groups get a "seat at the table" where economic development, job-creation and climate-change programs and policies are being developed – because preservation has an essential role to play in all of them.
Please make an immediate and generous year-end gift to help ensure that the preservation of America's heritage has an ever-more meaningful place in the landscape of American values.
Thank you for your support,
Dolores McDonagh
Vice President Membership
Posted by Jack LeVine | Currently No Comments »
December 16th, 2009 Categories: Las Vegas Real Estate News
invent me a 30 hour day or a 9 day week. I thought December might be slower, but…..NO! NO! NO!
Something's had to give, and it seems to have been my blogging time. Hopefully, I can get some blogging in later this week. In the meanwhile…..
I had wanted to ask you to go do some of that holiday shopping in the Arts District. That's where I'm doing all of mine.
Yours,
Uncle Jack
Posted by Jack LeVine | Currently No Comments »