"Save Maude's Hall – The Building that Built UNLV"
November 28, 2007
Historic Preservation Group Atomic Age Alliance co-hosts a Support Rally for the Maude Frazier Hall on the UNLV Campus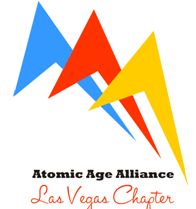 Atomic Age Alliance co-hosts "Save Maude's Hall" Rally with the Anthropology Society of UNLV in support of the preservation of Maude Frazier Hall, the first building ever built on the UNLV campus.
On Wednesday, November 28, Atomic age Alliance and the Anthropology Society of UNLV presents a Rally "Save Maude's Hall – the Building that Built UNLV"
RALLY:Â Â Â Â Â Â  Wednesday, November 28,
LOCATION:Â Â Â  Valerie Pida Plaza (near the Student Union dining area)
UNLV Campus
4505 S. Maryland Parkway Las Vegas, NV 89154
CONTACT INFO: Mary-Margaret Stratton, Director Atomic Age Alliance
(818) 789-5321
info@atomicage.org
Heidi Swank, Anthropology Society of UNLV
(702) 371-6217
heidiswank@yahoo.com
WEBSITE:Â Â Â Â  www.atomicage.org
Below the fold is the rest of the press release which outlines the history, and the case for saving it.  
UNLV History to be Demolished and Re-written
The first classes at UNLV were held here in Maude Frazier Hall on September 10, 1957. It is one of Midtown's most historic buildings. As the university focuses on the next 50 years, this building is slated for potential demolition within the coming year. On November 29 and 30th the Board of Regents will discuss this decision, whether they will turn their backs on their history and identity, or celebrate this building as a bridge representing the last 50 years of educational growth in Southern Nevada, and as a gateway to the future of UNLV and Midtown redevelopment.
Architecture Worthy of National Recognition
Although the landscaping has suffered through the years and detracts from the building, the structure still retains most of its original architecturally significant attributes and qualifies for National Register of Historic Places status. The 13,000-square-foot Mid Century Modern structure features original elements including it historic façade that faces Maryland Parkway.
The building made a statement when it was built with low wide form creating an impressive presence against the broad empty 1957 desert landscape. At the center of the one story building is a massive wedge of wall that serves as a sign board on which original "metal architectural lettering" spelled University of Nevada, now replaced by less suitable contemporary UNLV lettering. To the right a cantilevered horizontal overhang is supported by repeating pillars. Numerous interior components are also intact. And the flat roof presents another signature element – a horizontal mass juxtaposed with vertical ventilation element.
Named for a Female Pioneer of Nevada
Frazier Hall is a testament to a pioneering spirit that few in the history of Nevada have possessed. The individual for whom it is named, Maude Frazier, was responsible for bringing educational facilities of Southern Nevada into the 20th and now 21st centuries. From her ground breaking efforts in the procurement of funds to build Las Vegas High School, to her equally impressive work persuading the State of Nevada to provide funds for a fledgling university, Maude Frazier's work is the foundation upon which a substantial portion of Southern Nevada's educational past, present and future is built. In addition to being a champion of education, Maude Frazier was also a state assembly person and the first female Lieutenant Governor of Nevada. The edifices constructed to celebrate individuals are touchstones by which inspirational spirits may be remembered. Rather then tear down the original and affix Maude's name to a new irrelevant structure, Maude Frazier Hall should become part of the new master Mid Town plan and saved for the enrichment of generations to come.
Atomic Age Alliance Celebrates Las Vegas History
Atomic Age Alliance (AAA) is a volunteer organization that celebrates the preservation of Mid Century Modern architecture and culture in Las Vegas.  The concept of the AAA was formed in Las Vegas over three years ago during the La Concha preservation campaign, but did not officially launch until January 2007 with the Mondo Lounge Atomic Frolic fundraiser downtown at the Aruba Hotel. They will host another Mondo Lounge event in October, 2008 at the Plaza Hotel in conjunction with the first annual Las Vegas Modernism Show.

The RallyThe "Save Maude's Hall" rally will bring together student, fans of architecture, alumni and others who care deeply about this important piece of Las Vegas and Clark County history. Special guest speakers will be announced. It will be held from to making it a convenient lunchtime activity for students and working professionals alike. Local award winning pizzeria, Metro Pizza, has donated pizza for the first rally attendees who arrive.

 

 On Wednesday, November 28, Atomic age Alliance and the Anthropology Society of UNLV presents a Rally "Save Maude's Hall – the Building that Built UNLV"

RALLY:Â Â Â Â Â Â  Wednesday, November 28,

LOCATION:Â Â Â  Valerie Pida Plaza (near the Student Union dining area)
UNLV Campus
4505 S. Maryland Parkway Las Vegas, NV 89154

CONTACT INFO: Mary-Margaret Stratton, Director Atomic Age Alliance
(818) 789-5321
info@atomicage.org
Heidi Swank, Anthropology Society of UNLV
(702) 371-6217
heidiswank@yahoo.com

WEBSITE:Â Â Â Â  www.atomicage.org