Welcome To Uncle Jack's Very Vintage Vegas!
Vintage Las Vegas Homes,
Historic Las Vegas Neighborhoods,
Las Vegas History,
Urban Living In Las Vegas.
If it's great, cool, fantastic, artistic, annoying, amusing, unique, or surprising.. you'll find it at VeryVintageVegas.com.
Check out what we're doing and add your two cents! Your comments & ideas are welcome. We update daily, so come back tomorrow!
Blogroll
Farmer's Insurance
Paul Hesselgesser
702-434-1230
The Hesselgesser Insurance Agency Website
Classic Las Vegas - Lynn Zook's Preservation of 20th Century Las Vegas
Curbed LA - WOW!
Mid-Century Modernist
RETRO RENOVATION - Pam's Excellent Effort At Re-creating A Retro Life
Carnival Of Real Estate - Minus Elephant Ears, But Still Mighty Tasty
Lotta Livin' - A Celebration Of Really Cool Things Mid Century
Bawld Guy Talking - Minus The Hair; Plenty Insightful
CoolnessIsTimeles - ALL "RAT PACK" ALL THE TIME!
SEE ALL OUR FAVORITES HERE

October 2nd, 2007 Categories: Downtown Las Vegas, Fremont St., Las Vegas History
Pioneer Club Postcard circa 1955 – (Courtesy of the Brian Paco Alvarez Postcard Collection)
By the end of World War II Las Vegas embarked on a nationwide public relations campaign that launched Las Vegas onto the national stage. In 1945, the Las Vegas Chamber of Commerce budgeted $75,000 for publicity and created the "Live Wire" fund. The "Live Wires" were members of the chamber in particular hotels and motels who agreed to contribute 1 to 5 percent of their gross annual incomes for promotion. The funds raised helped the chamber hire the renowned J. Walter Thompson Public Relations Agency, who conceived the Vegas Vic icon to help promote Las Vegas as the "New West." As a result from these earlier efforts the Las Vegas News Bureau, originally known as the Desert Sea News Bureau was created in 1949 as part of the chambers continued efforts to promote Las Vegas as a tourist destination after the war. News Bureau founder Maxwell Kelch, then president of the chamber, believed Las Vegas should be promoted as a product and the way to sell the product was to advertise it.
Throughout the 1950's Las Vegas photographers captured the enduring free spirit of Las Vegas through memorable news stunts. One of the best stunts was when Las Vegas News Bureau photographers would take images of tourists enjoying themselves in casinos or pool-side and then send the images to the visitors' home news papers to be printed. When the visitors arrived home after the vacation they would be made into instant celebrities. This was one of many types of stunts that took place, but these paled in comparison to the famed Cheesecake photography that became a staple of Las Vegas imagery.
Cheesecake refers to images taken of beautiful women in scantily clad costumes or bikinis' next to pools or various locations. During the 1950's Las Vegas was the cheesecake capital of the world. Thousands of images were taken of women wearing outlandish costumes to promote resorts, businesses and Las Vegas itself. The idea behind using cheesecake to promote Las Vegas was meant to capitalize on the "Fun in the Sun" concept.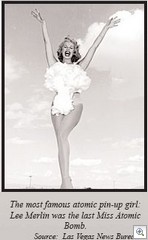 One of the most famous images from the Las Vegas News Bureau is Miss Atomic Bomb. This world famous image was taken by news bureau photographer Don English (1926-2006). Miss Atomic Bomb (Sands Copa Girl Lee Merlin) personified the Atomic Age and how Las Vegas used its fame as a one-stop place to view a mushroom cloud. From 1951 to 1962 atmospheric testing became routine for Southern Nevadans. Many people stayed up late or woke-up early just to see the flash of the blast, which lit up the night as bright at day. Many hotels downtown would take guests to the top floor to view the mushroom clouds rise above the Sheep Range.
Today Las Vegas News Bureau photographers are still following the traditions of the past and capturing memorable images to send to the wires. It's good to know that some things are still sacred in Las Vegas.
Brian Paco Alvarez
Jim Colyer said at February 18th, 2010 at 2:36 pm

I dig those mushroom clouds!