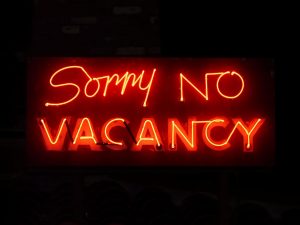 Travelers who use short-term residential rentals as an alternative to traditional hotels enjoy cost savings and "living like a local." Property owners, or "hosts," enjoy extra income generated by renting out a spare bedroom they're not using anyway. In fact, countless hosts have come to count on this added income to help pay for repairs, their mortgage, and other costs of daily living — exactly the initial purpose of short-term rentals.
When the city of Las Vegas decided to hold public hearings many agreed that a homeowner should have the right to rent a room or two, make a few dollars on the side.  It's their property after all.  With all other income generating businesses you had to be in areas zoned for business and have licenses.  The city agreed to allow short-term rentals at the urging of many that showed up at the hearings, believing that with the homeowner living on the premises, this type of "home business" would be self-policed.  In principle, it sounds like a viable plan but like many things, it has gone off the rails.  The program is now mostly benefiting corporate property owners who are short-term renting whole houses. Many are from out of state. They sometimes have multiple properties and have found a way to now own motels located in residential areas – and do so with the blessing of the City of Las Vegas.  With Las Vegas being one of the best tourist towns in the world this is the perfect business model for those that did not want the major expense of owning a commercial motel/hotel.
NEIGHBORHOOD IMPACT
Twenty to forty times a year short-term renters move in and out of houses in a neighborhood. They have no social, emotional or financial investment in the neighborhood or the community. They either don't know or care about the rules/laws when renting the house next-door to you for the weekend.  The short-term rentals that are only renting one or two rooms with the homeowner present don't seem to be the problem.  It is the corporate owned houses that are renting the whole house out to people that they don't know.  They are a business, they have to be about the profits of their business. They also have no social or emotional investment in the community since many of them are out of state companies.  Many of them don't care or enforce the rules/laws or what effect it has on the neighbors.  We belong to many of the neighborhood Facebook groups in the Vintage Vegas areas.  There is not a weekend that goes by that someone is not posting about parking, trash, noise and party problems at a short-term rental in their area.
THE NUMBERS ARE HUGE!
Airbnb estimates the short-term rental market business global market was worth $138 billion in 2016 and expected to grow to a value of $194 billion by 2021.  In the Las Vegas valley, they reported renting 265,000 room nights in 2016 and that grew to over 500,000 room nights in 2017 Airbnb's market share is estimated to be  55% of the short-term rental market. Using these numbers it suggests there are over 900,000 total room nights being rented by all of the short-term companies operating in Las Vegas.  It has also been reported that 10% of the Airbnb owners make 45% of the income. The bottom 50% bring in 30%.
LONG TERM RENTAL IMPACT
Homes, that could be available for rent to local residents, are instead being bought by investors and listed on short-term rental company websites (think, for example, Airbnb, VRBO, FlipKey, or HomeAway). We have seen rental rates in the Vintage Vegas areas go up 15% to 20% in the last two years. There are people that are trying to move up out of the poorer areas. Vintage Vegas used to be the step up for many of them but now they are being priced above their ability to move up.  This is not 100% caused by short-term rentals but the fact that property values are also increasing. Some of these increases are being caused by investors buying up homes for short-term rentals though.
HOME OWNERSHIP IMPACT
During the down market, many investors were buying bank-owned homes that had been boarded up and left sitting. They could not be sold to a retail buyer due to the poor condition of the homes.  The investors would repair them and flip them back on the market so that retail buyers could enter the market.  The flippers did serve a purpose.  I noticed at the beginning of 2017 multiple cash offers were coming in on the finished homes from the flippers. That caused prices to rise and shut out the owner-occupied buyers for those homes.  They were willing to pay more money for a house ready to rent than spend the time improving damaged homes.  They found they can bring in 50% more money managing short-term rentals than becoming a landlord of long-term rentals.  It became the business model with the most return for them.    With a shortage of houses for sale in the Vintage Vegas area, this made for a major impact for buyers. The driving up of prices in this fashion made it so that local first time and move up buyers could no longer afford to move into the area.  Yes, it's good for current owners, the value of your home went up.  It did not make for bringing in good neighbors or building up our community.  Again, short-term corporate owners are not the only reason for prices increasing in the historic neighborhoods of Vintage Vegas. There is a huge lack of inventory for sale at this time but corporate buyers are taking houses off the market that could have local families living in them.
HOTEL INDUSTRY IMPACT
When 500,000 to 900,000 room nights leave the hotel industry it not only costs the industry money, it costs residents job. Think about how many housekeepers, valets and other staff are not needed when 2400+ rooms are left empty each night.  It does not just affect the hotels. There are restaurants, gift shops, theaters and hundreds of other businesses that don't see the business from all of the people not staying in the hotels.  Those hotels are also the ones with the casinos. The casinos that are responsible for the majority of the tax money that is paid to the state. That industry helps keep our property taxes low. It's why we have no personal income tax. The hospitality and gaming industry provides a major portion of the jobs in this state, and they support most all other industries in the State of Nevada. THERE IS NO TAX REVENUE being generated to our community from both the legal and illegal short-term rentals.
GOVERNMENT SERVICES IMPACT
Clark County made short-term rentals illegal in 1998. Long before the new craze started.  In 2017 they had over 500 complaints about short-term rentals. It is costing them millions of dollars of taxpayer money to police the illegal short-term houses.  They have had over 200 reports in 2018 by the end of March. Illegal short-term rentals remain a problem in the Las Vegas Valley.
The City of Las Vegas decided to bend to the will of the people and make laws/rules for short-term rentals. While they are collecting fee's for licenses, but the cost to monitor these businesses and enforce the rules may be costing them more than the fee's they are collecting. Government does not come cheap.  At this point, I can not find any local reports about how well the license holders are complying with the laws/rules.  We do know for a fact there are many illegal short-term rentals within the boundaries of Vintage Vegas.  There are currently some listed for sale that have no licenses.  We have personally seen some.  Many that we have researched are allowing street parking for their guests since many of the older homes have very little parking on property. By law, all parking must be on the property, no street parking. All short-term rentals are required to have a sign posted on the property with a 24-hour phone number of the responsible party so neighbors can contact them.  We have not been able to find a single short-term rental with this sign posted. Neighbors complain about the loud parties and the lack of support and quick response by Metro.  Metro has a lot to do and calls are prioritized. Noise complaints are low on the list of emergencies.  I know that has hard to buy into when you're trying to sleep and there is a party of 25 people happening next door but that is the facts of using government services to police businesses in private neighborhoods.  All of this is costing the government (taxpayers) money. You can find the Las Vegas City Rules/Las here to review.   The city of Las Vegas has set up a 24 hour hotline if you are having a problem with one in your area.
SHORT TERM RENTAL HOTLINE – 702-229-3500
In order to improve communication with neighborhoods on Short Term Rental issues, the city has established a 24 hour, 7 days a week hotline.
If you need to register a complaint about a Short Term Rental, Vacation Rental or event house in your neighborhood, please call the hotline.
Las Vegas is not the only city that has problems with compliance when it applies to short-term rentals. Many studies have been done. Here is a small sampling of the compliance rates.  We have no reason to believe Las Vegas is any better or worse than those listed below. Fact is Clark County has a 100% compliance failure rate at this point. Airbnb does provide the rules/laws to all users of their system   As with everything in life it is up to the users to read and follow them.  Airbnb is not in the enforcement business.

HOW MANY SHORT-TERM RENTALS ARE IN VINTAGE VEGAS?
We did the research on two Vintage areas. This is where we know the areas best, live, and do most of our business.
When we did a business license search we found that many of the corporations own 10, 15, 20 or more homes in the city of Las Vegas that they are using for short-term rentals.  Many of them are out of state companies.  We've also found that 85% of short-term rental licenses are held by corporations.
On the East side of Vintage Vegas, the boundaries are West – Las Vegas Blvd, East – Eastern Ave, North – Charleston Blvd, South – Sahara Ave.  This is a map of all the licensed short-term rentals in that area.  There are 31 Licenses in this area. 26 Corporate and 5 personal. There's OVER 300 units just on ABNB in the 89104 zip code. Half of them are in the county – so they're inherently illegal, but that means there about 120 illegal units in the city portion of 89104.
Believe it or not – one of them – is a travel trailer in the driveway that sleeps four.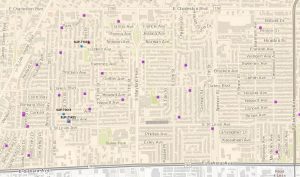 On the West side of Vintage Vegas, the boundaries are West – Valley View, East – I-15, North – US 95, South – Sahara Ave.  This is a map of all the licensed short-term rentals in that area.  There are 26 Licenses in this area. 23 Corporate and 3 personal. Because this area spans multiple zip codes, it's hard to isolate the exact number – but it looks like there's around 200 illegal ones.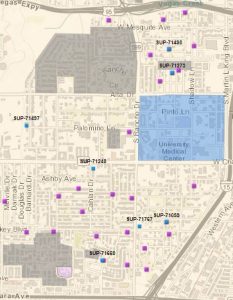 To review the map of all short-term rentals in the City of Las Vegas CLICK HERE.
A video was recently released talking about many of the same problems and more in New Orleans.  Hopefully, the short-term rental business does not ever effect Las Vegas in the way it has affected them.
WHATS THE SOLUTION?
In a perfect world, tourists would stay in the hotels that provide most of the jobs and a major portion of the taxes that keep our great state running.  Second to that would be to eliminate corporate owners and whole house short-term rentals. Let it be what was presented at the start.  The homeowner must live in the home, rent one or two rooms. And in all cases – let's find a way for sales and room taxes to be collected. Homeowners would be able to raise the prices some since they would not have as many whole houses to compete with. One thing's for sure, the future of short-term rentals will impact many of us in one way or another.