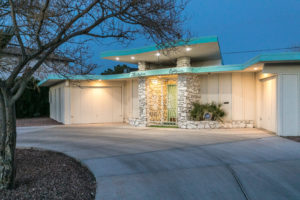 Most of the vintage homes and the historic neighborhoods in Las Vegas were built in the 50's and 60's as the town was growing up.  The strip was growing and people needed someplace to live including many influential people that were the pioneers of our great city.  Many celebrities lived in the neighborhoods that we now consider Vintage. Paradise Palms, Scotch 80's, and Rancho Bel Air, and Rancho Circle had their fair share of famous residents. One of the most comprehensive lists of celebrity residents was put together for Paradise Palms.  Here is a list of Influential people and Entertainers that have lived in the Paradise Palms neighborhood.
From time to time some of the homes of celebrities come on the market. We all like a peek inside of the lives of celebrities so I thought I would share some of those homes with you that are currently on the market.
The Phyllis McGuire Home at 100 Rancho Circle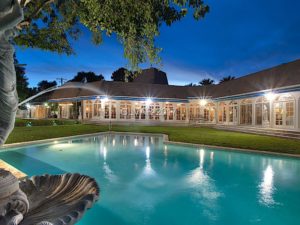 Currently on the market is Phyllis McGuire's home in the guard-gated community of Rancho Circle. 
Jerry Lewis's home in the Scotch '80s since 1984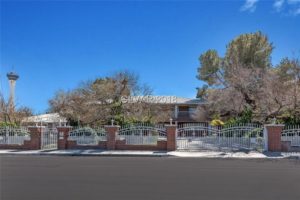 The property was first subdivided in 1961, but the legendary Jerry Lewis has called it home since 1984.  Las Vegas history does not get any better than this.  With over 7000 sf this magnificent home has so much to offer. The main house has 5 grand bedrooms with a separate casita and office. The bar in the family room was host to many celebrities and Las Vegas royalty. The pool and backyard area are massive for entertaining. This is a fantastic buy in the center of town. 
Sammy Davis Jr. home in Rancho Bel Air?????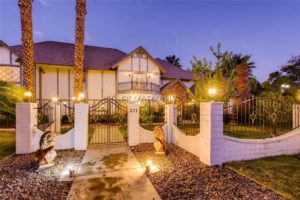 While this home is being marketed as having been once owned by Sammy Davis Jr.  The sellers have not been able to find any documentation backing up this claim.  I had a conversation with the listing agent and she stated that many of the old-time neighbors in Rancho Bel Air claim it was his home.  In our own research, we did find out that Jay Sarno, the founder of Caesars Palace and Circus Circus owned this home from 1981 to 1985. During that time he may have used his house for visiting entertainers.  If anyone has documentation showing Sammy Davis Jr. lived there please contact us so we can correct the record on this home. This home still has a great history.
The listing comments say Old Vegas at its finest! This home was owned by Sammy Davis Jr. and was a hangout for The Rat Pack back in the day! Beautiful 2 Story home with 6 bedrooms & 4.5 baths w/ a 1200 sq ft Casita!! Located in a guard-gated community!! Gorgeous open Living & Family room w/ formal Dining area & Wet Bar!! Custom kitchen w/ granite countertops, & island!! Huge master suite w/ sitting room!! Spacious yard w/ patio & Pool/Spa!" 
Finally Setting the record straight on the Paradise Palms "Buddy Hackett House"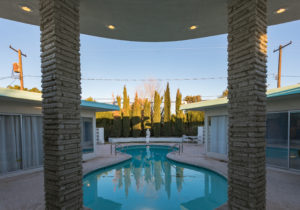 For twenty years I've been told 3586 Spencer was once the home of comedian Buddy Hackett.  I've been fortunate enough to represent sellers and buyers of this home a few times.  Recently I sold this home again. In doing research we finally have busted the folklore myth Buddy Hackett ever having lived in this home.    We were not able to find any records of him ever owning this home so we thought maybe he had been a renter.  The new buyers of this home did a lot of research and were lucky enough to be able to contact Sonny Hackett, Buddy Hackett's son.  He cleared up the mystery.
Per Sonny Hackett.  "No, my father never lived in this home".
"Back in the days when my father was a staple at the Sahara Hotel he got tired of living in the hotel and asked if they could rent a house that he could stay at when he was performing. Del Webb loved my father and had the hotel buy a house for him to stay at. That house was 1938 Ottawa Drive, just around the corner from where you are buying on the seventh green of the Sahara golf course at the time. It was a tract home and the hotel redid the house making it much larger and extending the living room out and taking the atrium and making it a sunken bar and incorporating it into the living room making it one large room. They also built my father his own closet in the downstairs bedroom and put a door with a lock so he could keep his stuff there and never have to pack. Eventually, all the stars wanted to stay there, but no one could get into dad's closet."
But, the house does have a history.  It was built by the well-known custom home builder, Ben Bruno, and was sold as a spec house to Rhoda Wolf (wife of Larry Wolf, owner of the short-lived Bonanza Hotel and Casino).  They owned the home from 1967 to 1973.
It was owned from 1989 to 2009 Cecil & Mathilda Atwell, they owned local motels in Las Vegas. Their son David also became the well known Real Estate broker of Mega Resorts on the Las Vegas Strip.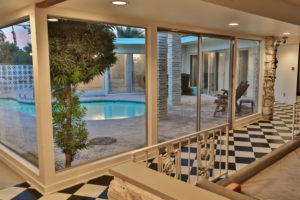 Even without the provenance of being Buddy Hacket's, this is still one of the most unique, iconic homes in the Mid Century Modern neighborhood of Paradise Palms. And it turns out there really IS a "Buddy Hacket House" – just not this one!