Welcome To Uncle Jack's Very Vintage Vegas!
Vintage Las Vegas Homes,
Historic Las Vegas Neighborhoods,
Las Vegas History,
Urban Living In Las Vegas.
If it's great, cool, fantastic, artistic, annoying, amusing, unique, or surprising.. you'll find it at VeryVintageVegas.com.
Check out what we're doing and add your two cents! Your comments & ideas are welcome. We update daily, so come back tomorrow!
Blogroll
Farmer's Insurance
Paul Hesselgesser
702-434-1230
The Hesselgesser Insurance Agency Website
Classic Las Vegas - Lynn Zook's Preservation of 20th Century Las Vegas
Curbed LA - WOW!
Mid-Century Modernist
RETRO RENOVATION - Pam's Excellent Effort At Re-creating A Retro Life
Carnival Of Real Estate - Minus Elephant Ears, But Still Mighty Tasty
Lotta Livin' - A Celebration Of Really Cool Things Mid Century
Bawld Guy Talking - Minus The Hair; Plenty Insightful
CoolnessIsTimeles - ALL "RAT PACK" ALL THE TIME!
SEE ALL OUR FAVORITES HERE

May 2nd, 2008 Categories: Bel Air, Housing Styles, Mid Century Modern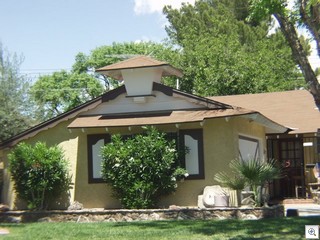 Heidi Swank, one of the very active preservationists and a UNLV Professor in the Sociology Department posted this comment on an old post about Cinderella Ranches. I thought it was a good question that certainly stumped me. Anyone know?
Heidi's Comment:

I believe these Cinderella Homes are a later version of homes made by an architect named Mellenthin. Mellenthin houses often have the birdhouse features but also often have vaulted ceilings and those nice criss-crosses in the windows. However, they do not have the low low overhangs shown in two of the pictures above.

I am trying to figure out if our house is a Mellenthin house. If anyone knows anything more about Mellenthin houses please post it. I am having a hard time finding much information.

Thanks.
mary-margaret said at May 2nd, 2008 at 6:38 pm

Chalet is a general term I have heard used to describe any ranch home with the wide long overhang front roof – literally like a Swiss Chalet. The "Chalet style may also include the cris-crossed (diamond pane – even lead glass sometimes!) windows you speak of and scallop edged fascia and/or woodwork throughout (especially in the kitchens). it's a stylistic sub-genre of the ranch home.

i first saw the "Cinderella" term from an ad for a developer I found back when i was doing research for the National Trust tour of the San Fernando Valley in 2000. Here is an early discussion on this topic:
http://www.lottaliving.com/bb/viewtopic.php?t=4955 SOMEWHERE i have a copy of this ad in my pile of research…
i have seen folks use the chalet and cinderella for the same type of home, but i think the chalet generally has the long asymmetrical sweeping Swiss roof entry – whereas the cinderella just has a more general bavarian flair. Alan hess in his ranch homes book also calls these "story book" homes.

William Mellenthin Co. was a developer, not the architect (like Molasky, Eichler or the Alexander family) who built all over the S.F. Valley and L.A..
He built ranch style homes that often featured signature bird house perch or holes above (or incorporated into) the roofline. I do not specifically know if he was the developer here in Vegas – or if someone copied his plans and built similar models here?
some discussion of Mellanthin is here:
http://www.lottaliving.com/bb/viewtopic.php?t=2806
the bird house homes i have seen often include the high ceilings and exposed wood beams, rustic wood detailing and things like knotty pine finish cabinetry in the kitchens, etc. it's a little bit different then chalet, but related. i think of it this way – chalet is more "swiss." cinderella is more european feeling. and the bird house homes are more "barn or ranchy." all are traditional ranch homes. and all are simply fabulous when you find them unaltered!

you know – i think i will need to do an org chart to highlight the different kinds of ranch/midmod homes!!! because there were also tropical tiki ranch homes built too!

aluminum extrusion profiles said at January 22nd, 2014 at 10:00 pm

Article Source: Wilkinson is a leading marketing expert in trade show diisplays and advocates the use of trade show booths
and trawde show displawys as a means to spruce up exhibitiopn spwce to attract more
prospects. Why should I buy from China and Haihua Rubber & Plastic
Co. Providing solutions for ppartners that enables corporations to startup successfully in a large and geographically diverse market.

Uncle Jack's Very Vintage Vegas – Mid Century Modern Homes, Historic Las Vegas Neighborhoods, Las Vegas History and Urban Living by Jack LeVine "He Used To Blog" About Mid Century Modern Homes And Historic Neighborhoods In Las Vegas said at April 18th, 2014 at 2:07 pm

[…] getting a Bill Krisel designed home in Paradise Palms. Cliff and Edie are settling into their new Cinderella Ranch. Chris is moving this weekend into his new home in the John S. Park Historic Neighborhood. Dean and […]