Welcome To Uncle Jack's Very Vintage Vegas!
Vintage Las Vegas Homes,
Historic Las Vegas Neighborhoods,
Las Vegas History,
Urban Living In Las Vegas.
If it's great, cool, fantastic, artistic, annoying, amusing, unique, or surprising.. you'll find it at VeryVintageVegas.com.
Check out what we're doing and add your two cents! Your comments & ideas are welcome. We update daily, so come back tomorrow!
Blogroll
Farmer's Insurance
Paul Hesselgesser
702-434-1230
The Hesselgesser Insurance Agency Website
Classic Las Vegas - Lynn Zook's Preservation of 20th Century Las Vegas
Curbed LA - WOW!
Mid-Century Modernist
RETRO RENOVATION - Pam's Excellent Effort At Re-creating A Retro Life
Carnival Of Real Estate - Minus Elephant Ears, But Still Mighty Tasty
Lotta Livin' - A Celebration Of Really Cool Things Mid Century
Bawld Guy Talking - Minus The Hair; Plenty Insightful
CoolnessIsTimeles - ALL "RAT PACK" ALL THE TIME!
SEE ALL OUR FAVORITES HERE

February 12th, 2009 Categories: Las Vegas History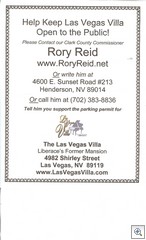 Our good friends at the Las Vegas Villa, the former home of Liberace is in need of our help. The county is making them jump thru some hoops, and re-apply for new parking permits. To garner support, they're asking us to contact Clark County Commissioner Rory Reid. Tell him that you support the parking permit. The flyer at the left has all the contact info. If you click on it, you'll see it full sized.
The Las Vegas Villa is currently a private meeting facility for weddings, Bar Mitzvas, birthdays and corporate gatherings etc. Though they're absolutely NOT affiliated with the world famous Liberace Museum on Tropicana Avenue, they do have a good working relationship.
In appreciation for our help, they're holding a FREE OPEN HOUSE this Saturday 2/14 from noon to 8 pm. YOU MUST PARK AT UNLV'S THOMAS AND MACK PARKING lot, and walk one short block south on Shirley Street. (remember….it's the parking situation that they need help with).
DO NOT PARK in the residential neighborhood!
Liberace was the face of Las Vegas for many many years. He's been gone now for 20 years, and many of you new people in town don't even know of the amazing legacy. Here's some video to get you started.
Here's a link to a short BBC documentary about how he came to be a star. The embedding is disabled so you'll have to click the link to watch it. It's under 3 minutes.
Below is a clip from his TV show.
And from a live show right here in Las Vegas:
It's very rare for any of us to get to see the Las Vegas Villa Mansion of Liberace, unless you're attending a function. Enjoy, and do them a favor by contacting Rory Reid to tell him you support the parking permits.