This event is open to the public if they want to watch or observe, but is limited to 90 "participants". If you're there to watch you'll only have to pay the normal $2.00 to get into the museum grounds. If you've never been to the museum, it's the best 2 bucks you can spend for a day of learning and reminiscing.
The official press release and flyer start here: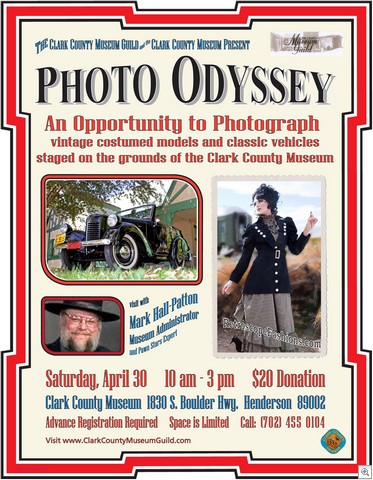 Photography enthusiasts will have a chance to test their shutterbug chops on April 30 when the Clark County Museum Guild hosts photography day at the Clark County Museum from 10 a.m. to 3 p.m.. Photographers will be able to shoot professionally styled models and vintage cars, located in and around the historic homes and outdoor exhibits of the museum grounds. A Nikon representative will be present to loan cameras and lenses to qualified participants. Pre-registration is requested, and enrollment is $20. Walk-ins for this event will be charged $25.00.
Eight locations at the Museum, suggestive of various eras, have been selected. Planned scenarios include a 1960's wedding at the Wedding Chapel, a 1930's Brenda Starr reporter by the Train Depot complete with Model A Ford, a "Magnesium Maggie" mom and daughter team in the Victory Garden behind the Townsite House, a Gibson Girl hanging laundry on the line behind the Beckley House, a modern wedding in the Gazebo, a Steampunk "Nell and Snidely Whiplash" couple by the Union Pacific switcher engine, a Rockabilly Couple with a vintage motorcycle by the 1960's Spartenette camper, and a Honeymoon Bride at the 1930's Motor Court. Mark Hall-Patton, Museum Administrator and guest expert of "Pawn Stars" fame, will be on hand to sign his book, Asphalt Memories. Copies are available through the museum store, and all sales benefit the museum.
Additionally, from 3-4 p.m., participants will be invited to network in a Meet and Greet, under the Gazebo. Registrations open April 1, 2011. The event is limited to 90 participants. To register, call the Clark County Museum Guild at (702-455-0104) or e-mail: [email protected]
The museum is open daily from 9 a.m. to 4:30 p.m., Admission to the museum is $2 for adults, $1 for seniors over 50 and children ages 3-17. For more information call (702) 455-7955. www.clarkcountynv.gov/Depts/parks/Pages/clark-county-museum.aspx