Welcome To Uncle Jack's Very Vintage Vegas!
Vintage Las Vegas Homes,
Historic Las Vegas Neighborhoods,
Las Vegas History,
Urban Living In Las Vegas.
If it's great, cool, fantastic, artistic, annoying, amusing, unique, or surprising.. you'll find it at VeryVintageVegas.com.
Check out what we're doing and add your two cents! Your comments & ideas are welcome. We update daily, so come back tomorrow!
Blogroll
Farmer's Insurance
Paul Hesselgesser
702-434-1230
The Hesselgesser Insurance Agency Website
Classic Las Vegas - Lynn Zook's Preservation of 20th Century Las Vegas
Curbed LA - WOW!
Mid-Century Modernist
RETRO RENOVATION - Pam's Excellent Effort At Re-creating A Retro Life
Carnival Of Real Estate - Minus Elephant Ears, But Still Mighty Tasty
Lotta Livin' - A Celebration Of Really Cool Things Mid Century
Bawld Guy Talking - Minus The Hair; Plenty Insightful
CoolnessIsTimeles - ALL "RAT PACK" ALL THE TIME!
SEE ALL OUR FAVORITES HERE

August 3rd, 2009 Categories: Las Vegas Real Estate News
First Thursday In The Arts District Of Downtown Las Vegas
Thursday! It's first Thursday in the Downtown Las Vegas Arts District. First Thursday is the preview night for First Friday. Most everything is open, but without the crowds. There's special events that night such as
Brett Wesley Gallery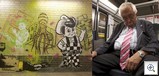 The Brett Wesley Gallery never fails to disappoint us. We did, however, think that Brett's last name was Wesley, but it turns out that Wesley is his middle name and Sperry is his last name.
That's important because this month Brett's showing his own photography, along with the photography of Patrick Rogers and Steven F. Dansky.
MORE THAN MEETS THE EYE – The Photography Show opens with an artist's reception this Thursday night 8/6 from 7 to 10pm. There's a sneak peak on the Brett Wesley website. The gallery is located in a PENTHOUSE LOFT at Newport Lofts at Hoover and 1st Street in the Downtown Las Vegas Arts District.
Fallout Gallery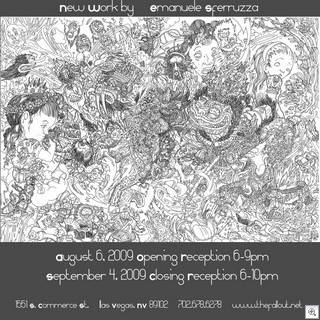 This looks like it's going to be real good. Famed graphic artist Emanuele Sferruzza will be showing. The opening reception is Thursday from 6 to 9 at the Fallout Gallery at 1551 S. Commerce Ave. in the Downtown Las Vegas Arts District.
"The Exhibit" will be showing August 6th Thru September 4th.
FIRST FRIDAY in the Downtown Las Vegas Arts District
It's the monthly art stroll thru the Downtown Las Vegas Arts District. 6 to 10 pm. FRIDAY 8/7/09
THE STREET FAIR IS BACK thanks to new sponsors, some serious fundraising by Whirlygig, (the 501C3 non-profit) promoter of First Friday and a lot of perseverance from its Board of Directors.
50 artists will be showing on the street, along with live music, galleries, food, and lots of fun.
For a complete line-up of artists, music, events, and venues, here's the First Friday Website.
Fremont Street Experience – "Summer of 69: Vegas or Bust"
Yesterday– A tribute to the Beatles – Friday, Saturday and Sunday nights 8 to 11 pm.
We discovered a little treasure the other night while at the Mayor's birthday party. A whole group of people have come together spontaneously as the Fremont Street Dancers. I accidently stumbled onto them, and caught a glimpse of them in the video that posted below about the Birthday party.
A little birdy has told me that they'll be at it again this Friday night (I guess it won't be spontaneous -but it will look that way if you're nearby, a la the T-mobile dances. I also hear they're planning a REALLY big one for the following weekend during the Woodstock Tributepalooza.
9:20 Friday night in front of the Golden Nugget and 15 minutes later in Front of Fitzgerald's.
The Mob in Las Vegas – Centennial Stories: Examining Our Past
The next "Centennial Stories – Examining our Past" event will be Friday 8/7 – Bob Stodal will be conducting a roundtable discussion on the subject of "The Mob In Las Vegas" 6pm – Clark County Government Center 500 Grand Central Parkway.
Bob is the Chairman of the Historic Preservation Commission for the City of Las Vegas, as well as a commissioner with the State of Nevada Commission on Cultural Affairs. The discussion will be filmed and will show during the month of August on the Clark County TV Station – Channel 4
statistics for management pdf said at January 14th, 2014 at 8:10 pm

Excellent posting. I'm checking out continuously this specific weblog using this program . amazed! Invaluable information in particular the remaining sections 🙂 We manage such facts lots. I had been interested in this particular information to get a very long time. Appreciate it as well as best of luck.