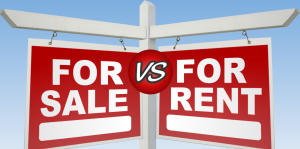 ATTOM has released its Rental Affordability Report for 2021, showing that owning a median-priced home is more affordable than the average rent on a three-bedroom property. Some 58% of the 1,154 U.S. counties analyzed for the report reveal that major homeownership expenses consume a smaller portion of average local wages than renting.
Homeownership remained more affordable even though median home prices increased more than average rents and more than average wages in 88% of the U.S. counties analyzed. Renting was more affordable for the average wage earner than buying a home in 21 of the nation's 25 most populated counties.
"Home-prices are rising faster than both rents and wages, while wages rise faster than rents. And the housing market boom of the past decade keeps pushing home values to new records. Yet homeownership still remains the more affordable option for average workers in a majority of the country because it still takes up a smaller portion of their pay," said ATTOM Chief Product Officer Todd Teta. "The trend is slowly shifting toward renters, which could be a major force in easing price increases in 2022."
The analysis incorporated recently released fair market rent data from HUD, wage data from the Bureau of Labor Statistics (BLS), and public-record sales-deed data from ATTOM in counties with sufficient single-family home sales data.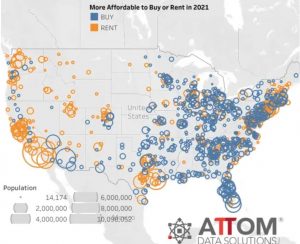 Prices have increased more than 10% in the majority of the country over the past year as a surplus of home buyers, as the result of the pandemic, are pursuing the small supply of homes for sale. Although average wages have increased to 8% while interest rates have remained around 3%, helping to maintain ownership affordability.
Popular trends favoring homeownership are found most in less-populous, suburban, and rural areas with the most affordable home values. However, renting remains more affordable in the biggest metropolitan areas.
"Prices can only go up by so much more before renting becomes financially easier. For now, though, rising wages and interest rates around 3% are enough to offset recent price jumps and keep ownership on the plus side of the affordability ledger compared to renting," said Teta.
The most populous counties where home prices are rising most rapidly are:
Los Angeles County, California
Cook County (Chicago), Illinois
Harris County (Houston), Texas
Maricopa County (Phoenix), Arizona
San Diego County, California
The largest counties where rents are rising faster than home prices are:
Allegheny County (Pittsburgh), Pennsylvania
Hidalgo County (McAllen), Texas
Ventura County, California (outside Los Angeles)
Jackson County (Kansas City), Missouri
Lake County, Indiana (outside Chicago)
Other counties with a population of more than 1 million where it is more affordable to rent than to buy include populous metro locations such as Dallas; Miami; New York City; San Francisco; Washington, D.C.; and Riverside, California.
The ATTOM report weighs affordability, not whether owning or renting is the better financial choice. Homeownership historically builds wealth, but that calculation generally depends on how long the client intends to own the home. The longer they own, the better returns they will see.
Of course, a currently relevant benefit of homeownership is that it can help protect clients financially during periods of inflation. This is particularly relevant in the current economic situation. If your client has been wondering why the housing market has been going so crazy recently, it's partially because investors and financially savvy individuals understand the way that real estate can hedge against inflation. This is particularly true right now when inflation is one of the prevailing economic fears in markets.
So when a client asks if now is a good time to buy, despite rates trending up to start the year, the answer is probably yes, with the reasons listed just above.  That said, every client's situation and their goals are different, so as always, it's best for us to sit down together to decide if now is the time to buy, or if waiting and saving for a bigger downpayment is the path to take. Together, we can help people make informed decisions and become advisors for life.  Call me anytime you or your clients have questions.  I am always happy to assist. 702-378-7055 Let my 30+ years of Real Estate experience in Las Vegas work for you.
Some Date provided by: Brad Malkin  Noble Home Loans
The information contained, and the opinions expressed, in this article are not intended to be construed as investment advice. Very Vintage Vegas does not guarantee or warrant the accuracy or completeness of the information or opinions contained herein. Nothing herein should be construed as investment advice. You should always conduct your own research and due diligence and obtain professional advice before making any investment decision. Very Vintage Vegas, will not be liable for any loss or damage caused by your reliance on the information or opinions contained herein.