Gonna be a long week:
Arts Factory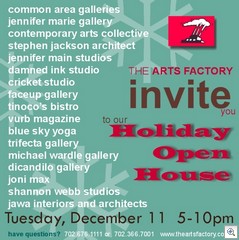 Holiday Open House Tuesday 12/11 5 to 10 pm
Atomic Age Alliance

AAA Las Vegas Chapter December Meeting and Holiday Party
Our next meeting and FIRST ANNUAL Holiday Party will be held at a private home filled with Mid Century Modern Magic…
LOCATION:
The SWANK PAD! a Private 1950s home in Beverly Green
546 Barbara Way
Las Vegas, NV 89104
Wednesday, Dec. 12th
Meet and Greet 6:30-7:00
Meeting starts promptly at 7:00 to 7:30 PM
(PLEASE NOTE THE EARLIER start time to MAKE TIME TO Celebrate afterwards)
Dust Gallery
Dust Gallery will hold a reception for Venske & Spanle on Friday, December 14, from 6–8pm
This sounds intriguing!
"Our interest lies in the development of a parallel universe of entities made out of stone.
In this show at DUST gallery, On It, we give an overlook of the different species.
There are the helotrophs, which are only complete with an appliance or a person. They are occupying their 'host' to be a full sculpture…
The schrumpels rely on the helotrophs since they need the space to be represented as they are.
Each of the orophytes (oro = gold; phyt = greek for species) stands in golden individuality.
In the 'family' of the gumpfots each one of them seems to grow out of their original shape and forms very different characters.
The smurfs are, so far, the largest population of sculptures. Each one of them has a different character, but seems to be like one cell plankton. They are widely spread over the globe (Australia, Europe, the Americas) and are a growing community…"
-Venske & Spänle
Artspace Originals And Suite Charities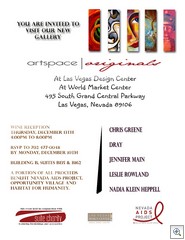 Wine Reception for the new gallery and furniture overstock showroom at the Las Vegas Design Center in the World Market Center. Thursday 12/13 4 to 8pm.
Proceeds will benefit 3 of my personal favorite charity organizations. Nevada Aids Project, Opportunity Village, and Habitat For Humanity.
Suite Charity is a furniture outlet for showroom samples from lots of the designers and manufacturers who sell out of the WMC. Proceeds benefit the 3 charities.
Also in the same space is a new gallery called Artspace Originals which showcases 5 local well known artists: Nadia Klein Heppell, Leslie Roland, Jennifer Main, Chris Greene, and Dray
RSVP is required, but there's no cost to attend. Call 477–0048
.