You Drive By Every Day
And if you haven't been in yet, you're missing one of the tastier authentic ethnic cuisine spots tucked downtown. It's the Island Flavors Cafe at 300 E. Charleston two blocks West. of Las Vegas Blvd. Paco, our friend Patrick & I all stopped in while walking back to L'Octaine from the First Friday festivities.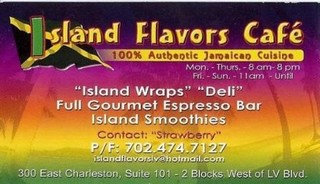 The Marley playing in the background is pretty much what you'd expect from a place serving Jamaican Cuisine, but the Jerk Chicken was better than any I've tasted to date. Decent prices make it even easier to come stop by for something new & local if you haven't been yet. This downtown spot is VVV approved!