We've got a new venue on Fremont Street!
Don't Tell Mama is a piano bar. The grand opening is this Monday 2/9/2009. Doors open at 7pm. to the public.
I went there last week with MaryMargaret and Cary Stratton, and had a great time. They've been open doing a dry run for the last 10 days while they worked out the kinks. Now they're ready for business.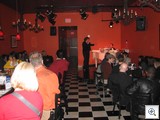 Don't Tell Mama is in the Fremont Street East Entertainment District. They're next to the beauty bar at 517 E. Fremont.
I think you'll have a great time, whenever you go. The entire staff is made up of professional singers and musicians. They're doing the show tunes and the standards. You can sing along, and there's open mic opportunities if you're not bashful.
I'd put these pictures up on facebook last week, but hadn't gotten around to writing about it here.