Remember that? It's supposed to be the primary focus of VeryVintageVegas. I haven't forgotten it. But looking back recently, VVV has gotten overwhelmed with "cultural stuff".
Most days, I'm so overwhelmed with appointments and paperwork that should have been done the day before, to the exclusion of lots of things I'm missing. Blogging is one of them. Attending every function is another. I used to spend way too much time each day blogging. Things were a little slower then, however. Now-a-days there doesn't seem to be enough time for it, for which I'm truly regretful.
I don't regret that I'm helping so many people now to get great buys. I don't even have to put my listings in the MLS anymore. Usually, all I have to do is tell a client about it, and it's gone.
That's not the case with a little house I have listed on 11th Street. I actually don't have a single first time buyer on my list who's shopping for a home under 65,000. Unfortunately for the seller it's a short sale. Fortunately for the future buyer, there's a real live owner who can decide who to sell it to.
We're trying a little experiment with it. Every agent I know has a similar story to tell. "I know my client's offer was the highest, but they took a lower (all cash) offer." So the seller agreed to make it off limits to the cash investors.
Here's the remarks, right out of the MLS:
Socially conscious seller says "FHA, VA OR OWNER OCCUPIED BUYER ONLY" Cash offers WILL NOT BE CONSIDERED. This could be the cutest little place with some new landscaping and some minor TLC. Real hardwood floors. Seller will even agree to 3% towards buyers closing costs. Subject to Shortsale Lender Approval.
Fortunately, Cash Buyers are NOT a protected class under the fair housing laws. OH, HOW I WISH THAT THIS WOULD BECOME A TREND. How about it all you other Realtors who are regular readers of VVV.
Who do you know that would be right for a little 2 bedroom 1 bath? Give me a call, or drop me an email at [email protected]. All referrals are welcome and appreciated.
In the meanwhile:
Lee got his keys yesterday on a short sale deal in Metropolitan Homes off Mohave and DI,
Zane and Jenny are moving in this weekend after doing a paint job and new flooring on their Palmer and Krisel designed home in Paradise Palms. It was bank owned, and somehow, we got them to accept an FHA offer!
Brandee's all snuggled in for the winter in her adorable home in Westleigh. It was a short sale, also.
Suzanne and Gary snagged a great deal on a HUD owned townhouse in the Very Mid Century Modern community of Villa Hermosa. Having the Government as the seller has been a particularly interesting game, but all the issues have been resolved and they'll get keys next week.
JB's waiting for short sale approval on one of the Huntridge Homes. Scott's waiting for short sale approval in Paradise Palms, and Bob & Alisa are waiting for approval in Southridge.
Carlos is closing on his short sale purchase out in the suburbs next week. He regrets leaving downtown, but needs to be walking distance to work.
Terry jumped in quick and landed a terrific mid modern in Beverly Green. A few inspection surprises caused us to re-negotiate the deal, and we're moving ahead for a closing next month.
Dan, David, Hart, Frank and Alison, and Becky are all playing the waiting game of "will our offer be accepted".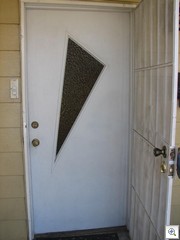 And finally, since I'm "supposed" to put a a picture or a graphic in every post……
A totally cool front door on a Huntridge Home that came on the market yesterday. It's already got many cash offers at over the list price, of course. It's a shame they're refusing to accept FHA financing.