VeryVintageVegas has always been a huge fan and supporter of First Friday. It's the cornerstone of the whole Arts District as well as the driving force that's helped to create the urban Arts, Music and Culture Scene.
Last Month (new years day) was frightfully cold, and everyone seemed to have been partied out or footballed out or paraded out or something, because it was one of the lowest attendance First Fridays – maybe EVER.
I bet we can all do better this Friday FEBRUARY 5th. The festivities are from 6 to 10 PM as they always are. Here's the full calendar of events….with over 100 outdoor artist spaces and lots of new work in the dozens of various galleries.
This month, Cirque Du Soleil is one of the sponsors:
Cirque du Soleil is an international company from Quebec dedicated to the creation, production and distribution of artistic works. Their mission is to invoke the imagination, provoke the senses and evoke the emotions of people throughout the world. With seven permanent productions in Las Vegas, Cirque du Soleil continues to participate and take an active part in the local community.

Cirque du Soleil–in February once again supports First Friday Las Vegas. Ever since it has had the resources to follow its dreams and to present shows around the world, Cirque du Soleil has chosen to be involved in the community. Every year, an amount equivalent to 1% of Cirque du Soleil gross earnings is committed by the company and its founder for various cultural programs supporting emerging artists, social action and responsibility programs including Cirque du Monde, Cirque du Soleil's social circus intervention program geared to underprivileged youth, as well as the ONE DROP Foundation.

Whirlygig Inc., the non-profit producer of the First Friday arts event is fortunate to be one of the cultural programs Cirque du Soleil supports here in Las Vegas.

Come down this month to enjoy both visual and performance art! Indiekrush.com is programming the Land Rover stage, live improv on the street, artist, vendors and more!

We will be hosting more than 100 artists on the sidewalks and in the gallery spaces within the outdoor festival area on Casino Center Blvd and Colorado. Check out Commerce Street Studios and the Arts Factory in the surrounding area.
Preview Thursday should be quite interesting as well. Preview Thursdays have less crowds, the opening parties and a more quiet atmosphere.
Brian Paco Alvarez "the curator of culture" in Las Vegas has mentioned in particular on his blog "ENCULTURATE LAS VEGAS" a few must sees including Gia Ray at City Of The World Gallery; Brett Wesley Gallery's Full Figured Neon Kiss" and many others.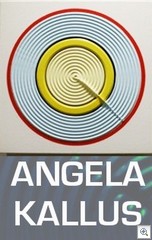 I want you to see my friend and next door neighbor's work at the Trifecta Gallery in the Arts Factory. Angela Kallus is well known in the commercial art world for her mind blowing circles and is doing a show of just smaller pieces. The opening party is 6 to 9 pm at Preview Thursday and will be showing for a month. Angela tells me the smaller pieces will be quite affordable compared to the large scale corporate art pieces she usually does.