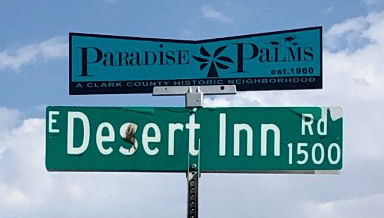 Congratulations are due to the entire Paradise Palms Neighborhood! On April 20th – the Clark County Commission voted unanimously to designate the entire Paradise Palms as an official "HISTORIC DISTRICT".
The effort to create this district started as a grass-roots effort over 5 years ago. My favorite non-profit, Nevada Preservation Foundation guided the community through the process.
When I spoke in support at the County Commission meeting, I made the point that Historic Districts help to build community pride and enhance property values. I'm hoping that other historic neighborhoods will follow the lead of Paradise Palms. If you live in a historic neighborhood, Nevada Preservation can help you to get started.