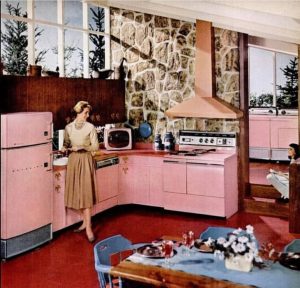 It's the 1950s. The war is over, and the United States is enjoying a wave of unprecedented prosperity. Millions of GIs returned, eager for the comforts of home that they had been missing, and everyone settled down to a kind of nationwide nesting. Record numbers of homes were being built in the newly developed suburbs, and the center of all those homes was the kitchen.
Steel kitchen cabinets were very common in the 1950s, as manufacturers looked for ways to turn steel factories that produced weapons for the war for more domestic purposes. There were quite a few different manufacturers, including GE, who made both appliances and cabinets.
Throughout the '50s, designers and homeowners embraced color in the kitchen, although these colors were softer than the ones commonly seen in '30s and '40s kitchens. While kitchens in the '30s and '40s often featured bolder colors like black, red, or green, the '50s were dominated by soft shades of blue, pink, and yellow — candy-colored cabinets with appliances to match.
The dishwasher was a new introduction to kitchens in the 1950s and 1960s. Although many of the pictured kitchens (most of which are from ads) show them, they wouldn't become a common feature of American homes until the 1970s.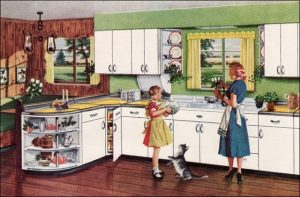 1951 Western Style Youngstown Kitchen – This modern kitchen shows the steel cabinetry so popular during the post-WWII period as well as the prevalence of the Western theme with the knotty pine walls and yoke light fixture in the adjacent breakfast booth.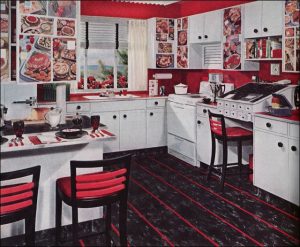 1951 Armstrong Picture Kitchen – In addition to the flooring, this kitchen is visually active with cupboard doors that serve as cooking inspiration. The idea was to introduce low-cost design with inexpensive materials … in this case pages from magazines.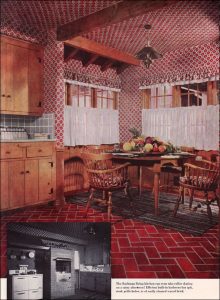 1951 Early American Kitchen – One of the design trends of the early 1950s was wallpaper. Not only was wallpaper used abundantly throughout the house, but ceiling treatments were common in the magazines of the period. How many homeowners actually undertook the daunting task of doing this themselves is anybody's guess, but it looks like a heck of a lot of work to us.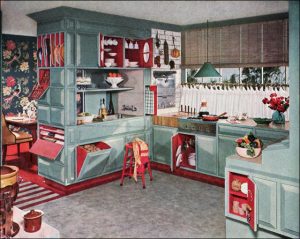 1953 Armstrong Kitchen – This kitchen has tons of storage … a common feature in Armstrong linoleum ads. Other common trends included modern light fixtures and pinch pleated café curtains.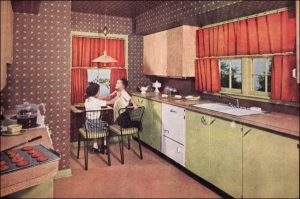 1953 Brown & Green Kitchen – This modern mid-century kitchen has a brown, orange, and apple green scheme, and an eat-in kitchen. Wallpaper was a common wall treatment and during the early 1950s was often used on the ceiling as well.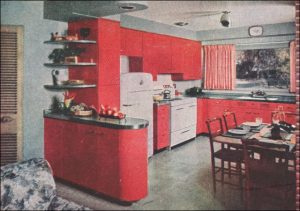 1953 St. Charles Steel Kitchen – This was a small ad for St. Charles steel cabinetry which was very popular during the post-WWII period. This kitchen reflects the affinity Americans had for blending the modern lines with early American furniture … in this case a trestle table and Hitchcock chairs.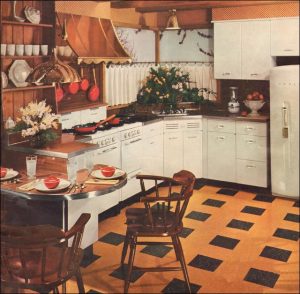 1953 Cover Kitchen – A modern take on the popular Early American style that people favored after World War II. Steel cabinets and copper in the hood and fixtures were a few of the trends during the early 1950s.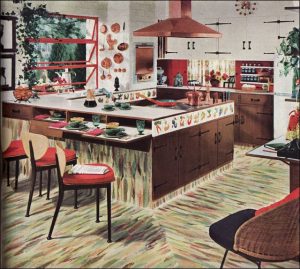 1954 Armstrong Kitchen With Copper Accents – The jury is still out on this Armstrong linoleum floor. Guaranteed to hide dirt and though it's the point of the ad, we are more taken with the chairs, George Nelson clock, copper hood, and louvered windows.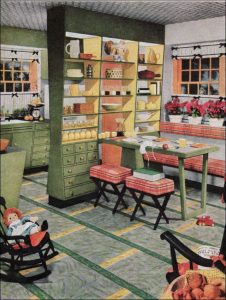 1954 Armstrong Seussian Kitchen – At least one viewer thought this kitchen was straight out of a Dr. Seuss book. We won't argue; the color and odd angles on the divider make it distinctive.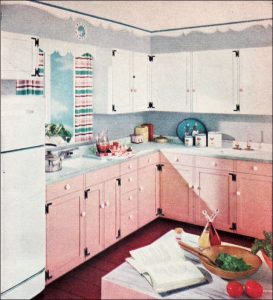 1954 Duco Paint Ad Kitchen – The scallops and wrought iron hinges give this little kitchen some Early American flavor.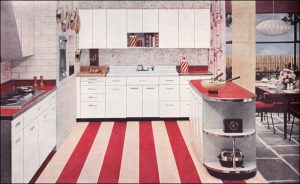 1954 Republic Steel Kitchen – This modern candy-cane-themed kitchen has everything the 1953 homemaker desired including the stainless steel range top, wall oven, chromed toaster, and of course, steel cabinets by Republic. Of course, it was the George Nelson Saucer Pendant that caught our eye.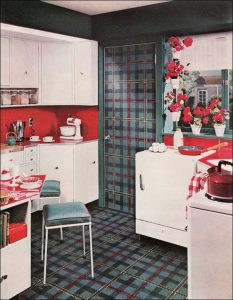 1954 Plaid Armstrong Kitchen – During the 1950s, there was an affinity for covering everything including doors and ceilings with matching materials. Even refrigerators could be covered! This Armstrong kitchen needs to be given credit for its design restraint.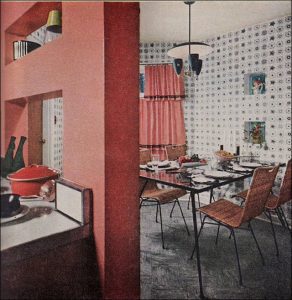 1955 Kitchen Dinette – This dinette has all the elements we think of when we think of midcentury modern. The light fixture, coral pink walls, and casual wrought iron furniture attest to the new informality in many interiors.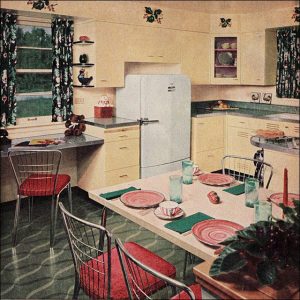 1955 Eat-In Kitchen & Counter – The eat-in kitchen, always a popular feature, really took off in the years after WWII. This one is typical for its patterned linoleum flooring, pastels, and barkcloth curtains. Stenciling ties the pink, yellow, and aqua color schemes together.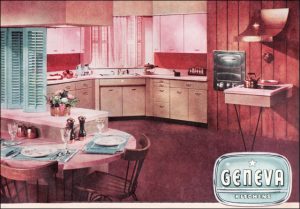 1955 Geneva Kitchen Cabinets – This Geneva kitchen covers all the bases with a pink and light turquoise color scheme, eat-in kitchen bar, and lots of copper highlights. The tan cabinets take it down a notch to make it cool and modern without seeming too sweet.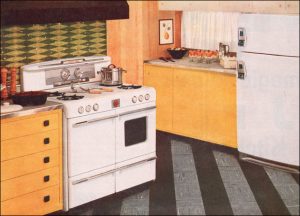 1953 American Gas Association Kitchen – Other than tracking down a vintage Magic Chef range and Servel gas refrigerator, it wouldn't be difficult to replicate almost everything in this kitchen. We particularly like the bank of drawers next to the range with the combination of birch, wrought iron pulls, and chrome banding.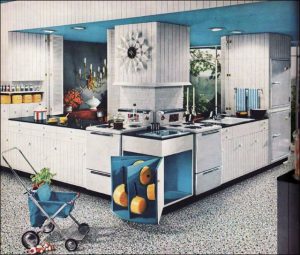 1956 Armstrong Corlon Kitchen – Of the many Armstrong ads, we really like this fresh bright blue and white scheme with a pop of lemon yellow. The floor is their new Corlon product and the pattern is brightly spattered. Easy to keep clean. Check out the mirror image stoves and wall refrigerators.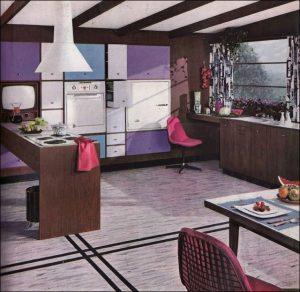 1956 Mondrian-Style Armstrong Kitchen – Mondrian paintings were an avant-garde statement during the 1930s. For the majority of American homeowners, modern design was a feature of the 1950s. Leary of faddish designs at first, it took a new post-War generation to embrace the new style.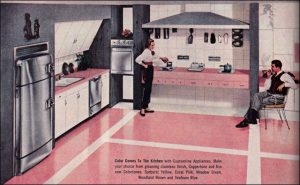 1956 Hotpoint Kitchen – This 1956 kitchen featuring Hotpoint appliances is so modern, that we can imagine installing the entire kitchen now. If only we could lay our hands on the curvaceous stainless steel refrigerator.
1956 Youngstown Kitchen – We really like the mid-century style of this kitchen with its floral wallpaper and modern light fixture. The color scheme is mostly pastel but with a surprising red floor.
(Photo credit: Apartment Therapy / Phil Kean Kitchens / Wikimedia Commons / Pinterest / Flickr).