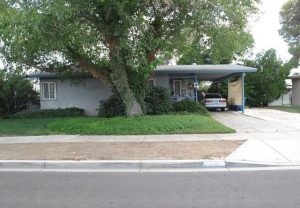 Do you remember great-grandma's house? You know – the one with all the knick-knacks, artificial flowers, and too much furniture? Well — Great-Grandma promises that all that stuff will go away. BUT UNDERNEATH it all is a really sweet and charming home that will need some paint when all the decor is gone. However you won't have to change the windows (they're all dual pane), nor the roof (it's only 7 years old) or the heat/ac either. There are ORIGINAL hardwood floors, ceiling fans, and a sewing/hobby room off of the eat-in kitchen. Outside – There's a covered front porch, raised gardening beds, and an outbuilding for storage or art or studio, or yoga. There's a covered patio and big trees for shade and you can drive into the backyard. This is the lowest-priced home in the "Downtown/Huntridge" area of Vintage Vegas – and it ought to be yours!
See more photos and the full listing BY CLICKING HERE
Houses that are priced, presented & marketed correctly are selling fast.
Let my 30+ years of Real Estate experience in Las Vegas work for you. 702-378-705