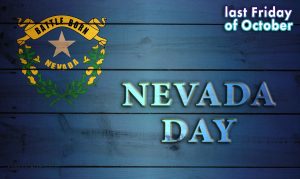 Nevada Day is a state holiday in Nevada in the United States. It is celebrated on the last Friday of October each year. It commemorates Nevada's frontier legacy and its entry into the Union as the 36th state on October 31 in 1864.
Is Nevada Day a Public Holiday?
This is a state public holiday. State government offices are closed. Some schools and businesses may also be closed on this day.
Background
In 1859 Nevada was an area that was not well known among settlers. Following Henry Comstock's discovery of gold in 1859, with his Comstock Lode producing over a billion dollars from silver and gold mining, settlers flocked to Nevada. Within two years it became a territory. Nevada then became a state on October 31, 1864.
The first mention of a grand celebration of Nevada's admission was in a journalist's diary in 1873. After that, the Pioneer society held a banquet on October 31, 1889. The state of Nevada officially recognized its birthday when Governor Roswell Colcord signed a bill in 1891 making October 31 a judicial holiday when no court business would be transacted on that day. In 1933 the state legislature passed a bill to designate October 31 as Nevada Day, a discretionary state holiday.
In 1948 October 31 fell on a Sunday for the first time since the Nevada Day parade was held (in 1938) so the day was held on the following Monday instead. The law on this holiday was amended in the following year so if October 31 fell on a Sunday then the Nevada Day state holiday was held on the following Monday. In 1971, the law governing holidays was amended to designate Friday as the state holiday when October 31 falls on a Saturday.
On November 3, 1998, Nevada voters advised the 1999 legislature that they wanted to celebrate Nevada Day on the last Friday of October beginning in 2000. The legislature eventually complied. Since then, Nevada Day has been celebrated on the last Friday of October. Nevada Day is October 31 but is to be observed on the last Friday in October.
What Do People Do?
Nevada Day is a legal holiday throughout the state but some of the most festive celebrations are in Carson City where a large parade has been held since 1938. Other events held to celebrate Nevada Day in Carson City may include a rock drilling contest, a battle of bands, a beard contest, and various sporting events. Some people go on a tour of the governor's mansion, while others take part in a Nevada Day pow-wow. There are also evening events such as concerts or balls.
Public Life
Nevada day is a state holiday in Nevada so county offices (except emergency services), educational institutions, some banks, and many businesses are closed. The Nevada State Bank is open although some branches may close early. People are advised to check public transit schedules first before they decide to travel via public transport during a public holiday.
Symbols
Nevada's symbols include the Desert Bighorn Sheep (state animal); the Mountain Blue Bird (state bird); the Lahontan Cutthroat Trout (state fish); the sagebrush (state flower); the Ichthyosaur (state fossil); the black fire opal (state precious gem); and the desert tortoise (state reptile). Nevada's state song is "Home Means Nevada", the state slogan is "Battle Born", and the state colors are silver and blue.
The state seal is the first symbol Nevada adopted (February 24, 1886). It is a gold seal embossed with the words "The Great Seal of the State of Nevada" around the outer edge. Within this is a composite picture showing the mining, agriculture, industry, and scenery of Nevada, under which is a scroll with the state motto, "All for Our Country".