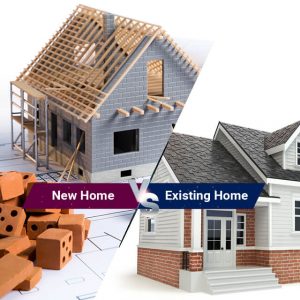 There are benefits to both options.  If you want a very specific home and don't mind waiting for it to go up, new construction can be a way to bring your dreams to life. But, if you need to move soon or are looking for a home in an area that's largely built up, an existing home might be the best choice.
Are you looking to purchase a new build home? There are a number of pros and cons to consider before finalizing your purchase. We have comprised a list of the pros and cons to help you make the best decision.
Pros
1. Warranty coverage – All new build homes come with a warranty that covers materials and defects for a certain period of time. This makes buying a new build home less risky.
2. Latest technology – New build homes are equipped with the latest in-home technology such as solar panels, appliances, and energy-efficient heating/cooling systems.
3. Energy efficiency – Because new build homes are built more efficiently, they use less energy, which translates to lower utility bills.
4. Potential customization – Many new build homes give buyers the option to customize the floor plan, fixtures, and finishes.
5. Take advantage of builder concessions – In today's market, a lot of home builders are working hard to sell their current inventory before they add more. That means many are offering concessions and are willing to negotiate with buyers
Cons
1. Long wait times – Building a home takes time. Depending on the developer, you could be waiting months or even years before your home is ready to move in.
2. Costs can add up – If you opt to customize your new build home, costs can add up quickly.
3. Restrictive landscape – Since your home will be on the same plot of land as other new build homes, there is limited opportunity to create a unique landscape.
4. Potential Hidden Costs – Make sure to ask your builder upfront about any additional costs that may arise such as title fees, homeowner association fees, etc.
Overall, buying a new build home can be a great investment. But make sure to do your research and weigh the pros and cons before making a final decision.
Are you looking at buying an Existing Home? Buying an existing home there can be many pros and cons that come along with the decision. Here, we'll break down the pros and cons of buying an existing home and give you an idea of what to consider before signing on the dotted line.
Pros:
1. Established Value: When you buy an existing home, you know what you are getting. You can easily evaluate the value of an existing home and make sure it's worth the price you're paying.
2. Easier Financing: It's easier to finance an existing home because the lender can see the market value. This can also help you secure a lower interest rate on your loan.
3. Immediate Move-in: You don't have to wait to move in when you purchase an existing home. You can go to the closing and receive the keys right away. https://realestate.usnews.com/real-estate/articles/should-you-buy-a-new-build-or-previously-owned-home
4. Existing Amenities: You'll have access to any existing amenities that the home has, including its location, nearby schools, and other considerations.
5. Lower Property Taxes. In Nevada depreciation is applied to the structure. The depreciation is calculated at 1.5 percent of the cost of replacement for each year up to 50 years. This is applied to the structure only; the Land does not depreciate.
Cons:
1. Older Technology: With an existing home, you'll likely be stuck with older technology. Any upgrades will likely require the help of an experienced contractor.
2. Potential for Unforeseen Costs: An existing home could come with additional costs that you may not be expecting. For example, you may need to replace the roof or make other repairs soon after closing.
3. Difficult to Change: Unless you're willing to spend more money to modernize the home, it can be difficult to make changes. The existing floor plan and layout may also be hard to adjust.
4. Lack of Status Updates: With a new home, you can view the construction process and gain insight into when it will be completed. With an existing home, there's no way to know what state the home is in until you visit.
At the end of the day, whether you buy an existing home or a new home depends on your goals and needs. It's important to carefully consider all of the pros and cons before you sign a purchase agreement.
If you have questions about the options in our area, let's discuss what's available and what's right for you, so you're ready to make your next move with confidence.
Houses that are priced, presented & marketed correctly are selling fast.
Let my 32+ years of Real Estate experience in Las Vegas work for you. 702-378-7055