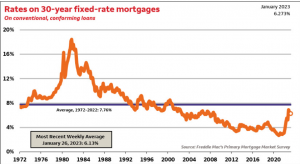 The last fifty years of mortgage rates tell an exciting story of both economic and social progress. Over the past half-century, economic growth has led to a more stable and healthy housing market, allowing for more affordable mortgages for people across the United States.
In the early 1970s, mortgage rates were around 8-9%. Since then, there have been significant drops throughout the years. During the early-1980s, rates peak at 18% and then dropped to around 12-14%. By the late 1990s, rates had fallen to 7-8%. In 2003, mortgage rates reached a new low of 5-6%.
However, since the Great Recession of 2008, mortgage rates have been on a steady incline. Despite this, they remain relatively low at 3.65% on average as of 2021.
Due to inflation, mortgage rates have increased in 2022 and appear to be staying stable so far in 2023.
In addition to economic factors, the availability of different types of mortgages has also contributed to the general decline in rates over the past fifty years. Potential homeowners will find different types of mortgages like fixed-rate mortgages and adjustable-rate mortgages, as well as government-sponsored programs such as FHA loans, VA loans, and USDA loans.
What's more, the National Homebuyers Fund and other grant programs can significantly reduce the down payment cost and provide access to more affordable mortgages.
So, over the past fifty years, mortgage rates have become increasingly more affordable, allowing more people to own a home. These changes are beneficial not only for the current market but also for future generations who may have more accessible and less expensive access to mortgages.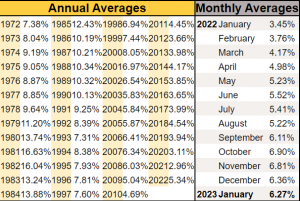 Houses that are priced, presented & marketed correctly are selling fast.
Let my 32+ years of Real Estate experience in Las Vegas work for you. 702-378-705
Source: Freddie Mac's Primary Mortgage Market Survey®. The rate shown is the rate on a 30-year fixed-rate mortgage on a prime conventional, conforming loan with an LTV of no more than 80%. Fees and points associated with these rates are not shown. The average fees and points charged with these rates from 2009 through October 2022 were 0.64 points. One point represents one percent of the loan amount. Following a change in survey methodology in November 2022, fees and points associated with these rates are no longer collected. These are historical industry figures and don't necessarily reflect rates offered by WFHM. PMMS data is provided "as is," with no warranties of any kind, express or implied, including, but not limited to, warranties of accuracy or implied warranties of merchantability or fitness for a particular purpose. Use of the data is at the user's sole risk.
The information contained, and the opinions expressed, in this article are not intended to be construed as investment advice. Very Vintage Vegas does not guarantee or warrant the accuracy or completeness of the information or opinions contained herein. Nothing herein should be construed as investment advice. You should always conduct your own research and due diligence and obtain professional advice before making any investment decision. Very Vintage Vegas, will not be liable for any loss or damage caused by your reliance on the information or opinions contained herein.