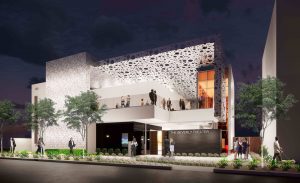 In the coming weeks, we will introduce Las Vegas to its first independent film house and performance theater. As a not-for-profit operation, our mission is to stage uncommon cinematic, literary, and live experiences. We are not a theater conglomerate. We don't belong to a national exhibitor circuit. We don't have a powerhouse concert promoter. Our program is grassroots, farm-to-table, and for the community. We're just an offbeat collection of creatives with strong quirk ethics and a relentless zest to get it right. We don't just support indie, we are indie.
Like everything else imagined by Beverly Rogers and The Rogers Foundation, this mission is bold. Very bold.  We committed to filling a void in the city by building something nobody else has or would even think about. We knew the climate; we heard the naysayers. We ignored them. We did this for you, downtown, and for the people that live here. We were thoughtful in our design and direction and intentional with our demographic.  As we open our doors and attempt to do right by you, we hope that connection is felt. We won't be perfect, but our drive for perfection will be.
Welcome and down in front, the show's about to begin at The Beverly Theater
Independent film house, storytelling arena, and live music venue debuts with a flex of its programming pillars of Film, Live, Lit in a combination of invitational and community events.
515 S 6th street Las Vegas, 89101