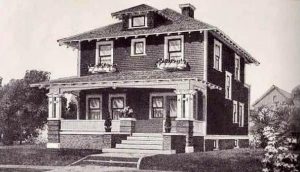 Sears, Roebuck, and Company were once one of the largest retailers in the United States. Founded in 1886, the company sold everything from clothing and jewelry to household appliances and even homes through its famous catalog. Yes, you read that right – Sears used to sell pre-fabricated homes through its catalog!
Between 1908 and 1940, Sears sold around 70,000 catalog homes, also known as kit homes or mail-order homes. These homes were pre-cut and numbered in a factory and shipped to the customer's location where they could be assembled by the customer or a contractor. The kits included everything needed to build the house, including doors, windows, flooring, and even nails.
Sears catalog homes were popular among people looking for affordable and customizable homes. Customers could choose from a variety of house designs, ranging from small bungalows to large two-story homes. The catalog also offered various customization options, allowing customers to modify the design to fit their needs.
One of the reasons for the popularity of Sears catalog homes was their affordability. In the early 1900s, owning a home was a dream for many Americans, but building a house from scratch was expensive and time-consuming. Sears catalog homes offered a solution by providing a pre-cut and pre-fabricated home at an affordable price. Customers could purchase a Sears catalog home for as little as $360 in the early 1900s, which was significantly cheaper than hiring a contractor to build a house.
Another reason for the popularity of Sears catalog homes was the quality of the materials used in their construction. Sears used high-quality materials to build their homes, such as sturdy lumber, double-strength glass, and durable roofing materials. The homes were also designed to be energy-efficient, with features such as insulated walls and ceilings.
Today, Sears catalog homes are considered historical treasures, with many still standing in neighborhoods across the United States. While Sears stopped selling catalog homes in 1940, the legacy of these homes lives on. They are a testament to the ingenuity and innovation of a company that once revolutionized the retail industry and left a lasting impact on American culture.
Sears catalog homes are a fascinating part of American history. They provided an affordable and customizable option for people looking to own their own homes, and their legacy continues to inspire homeowners and architecture enthusiasts today.
You can see all the different models from Sears in the Sears Archives.