While we're not official food critics, we do believe that a romantic, healthy, ethnic, or convenient location near home is a vital part of a rebuilding community. That being said, here are a few of our favorite local places to grab a bite cooked with love! (all are 'quality checked by VVV prior to recommendation)
Your Place or Mine For Lunch – Delicious Sandwiches soups & salads. Located in 'Lawyer's Row' at 622 Carson Ave. Las Vegas, Nv 89101, you'll not find a better tasting sandwich downtown. (if you do let us know!) You'll pay less than $10 for lunch & it'll be dripping with home-made love. (Steve swears he can taste it!)
Uncle Joe's Pizza – 505 East Fremont St., Las Vegas, NV 89101 702-385-2162
Great East-Coast style pizzeria w/ amazing Philly Cheese Steaks & Pasta too!
Hugo's Cellar – in the Four Queens Hotel, Fremont St. Experience – If you have a couple hundred dollars & a date you'd like to impress with downtown cuisine, this is where you need to go. The atmosphere & service are unrivaled for upscale dining in a romantic underground brick setting.
Ricon Criollo – Zagat Rated Cuban Cuisine, in an ethnic Mom & Pop atmosphere. Delicious; Steve & Paco approved. – 1145 Las Vegas Blvd. S. (Charleston Blvd.) Las Vegas, NV 89104 (702) 388-1906
Island Flavors Cafe – 100% Authentic Jamaican Cuisine 300 East Charleston, Suite 101 2 blocks West of LV Blvd. 702-474-7127 [email protected]
This place has that vibe. They've also usually got B. Marley pumpin in the joint w/ at least a speaker or two out on the sidewalk. This would make a great 1st date spot as well.. there's a table set up in the alley, and I can't really explain it, but the vibe is perfect.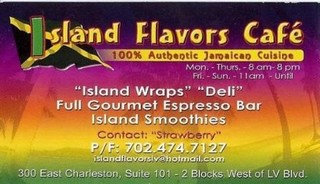 Potato Valley Cafe – 801 S. Las Vegas Blvd. #110 Las Vegas, NV 89101 (702) 363-7821
De-li-cious, baked potatoes with all sorts of crazy toppings are the crown of the menu. They've been open for just over a year now, and have extended their hours from 8 am to 6 pm. We're very happy about that. While you can get soup & a sandwich here, we strongly recommend trying out a crazy potato! This great place for lunch is just below Steve's Apt. Bldg. on the corner of Las Vegas Blvd. & Gass.
This list will be growing. As mentioned we taste each location's cuisine prior to recommendation, so bear with us as we slowly find more locations to bring you!.