It just got better. Let's talk about LoPro at Downtown Cocktail Room for a minute. I love it. Thursdays from 4–8, my favorite happy hour goes down at 111 S. Las Vegas Blvd. There's a valet. Sometimes the valet's busy running around doing his job. Sometimes I'm impatient & just drive through the alley & park on 6th between Carson & Fremont, throw a few quarters in the meter, & head right in for a basil mojito (custom delicious brilliance developed by George the bartender).
Sometimes those quick lil' b*****d's in the parking enforcement golf carts beat me back my vehicle. (OK, sometimes I'm just having too much fun or too many mojitos to remember i need to re-deposit coins) My point is this: there's nothing cool about coming out of the bar, or where ever you may be and finding a $20 ticket that would have cost you a quarter to prevent between the hours of 8AM & 8PM.
I mean, come on this is Vegas! By 8PM we're pretty much doing our thing & running around with a pocket of loose change racing vindictive golf cart drivers is not my thing. I suppose we could drive down to any of the tourist traps South of Sahara & park for free in a luxurious structure designed to funnel the crowds & their wallets directly to the slot machines. Of course gambling's not my thing either (thank G-d). I want that gritty, down to earth urban vibe in my day & evening. I'd rather pay $20 twice a month for my lack of recollection that 'we have to do that in this part of town.'
This may still be the case on the extended lunch meeting, or other such mid-day recreation. However, with LoPro starting at four, and most meters I've encountered near the hot new Fremont East having a 2 hour time limit wouldn't it be great if Mr. Goodman (who I met at LoPro a few months back) could make it a bit easier for those of us who get lost in the sultry ambiance of mojitos, maroon, bamboo & leather? Well, I'm happy to report that someone in his crew must have gotten the message.
Wednesday evening after pulling up behind Beauty Bar & unloading my Dj rig for our fundraiser I thought I could just pull out of the alley an set up car camp on Sixth St. Convenient right? No, to my initial dismay every meter on the street was bagged up un-usable. I pulled around the corner and managed to scope a spot in front of the Western Union on Carson where the teller was kind enough to make change of a few dollars for me. While depositing my first 1.5 hours worth I stopped with a perplexed look on my face. This particular meter's sticker was laughing at me displaying hours of operation 8AM–6PM! No way! Sweet I found the 'lucky meter!'
I jogged down the street a bit, and no wait am I in heaven? Every meter on Carson was now shined up with a new 'hours of operation' sticker displaying operating hours of 8AM-6PM! That's right, despite the two hour limit, if you've got two bucks in change lodged in your seat or console, you can now deposit 2 hours worth of time, arrive for the first sips of LoPro, and stay as long as you like. With no nasty $20 hang over payable to the City of Las Vegas! Good move parking enforcement guys! It looks like most of the meters around the Fremont East Entertainment District have already or will soon change to 8–6, but double check, I'm not paying your ticket.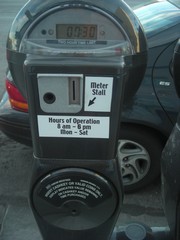 I snapped this pic yesterday as I was on my way to LoPro once again, where I caught up with Amy & Candice from Vurb. These two lovely ladies hinted that there may be a very cool Vurb Magazine party coming soon. I'm sure they'll let you know about it soon, especially if you're staying up to date with their hot new web site. Of course, we'll post info on the event as soon as they give us the go ahead!
.