Today's Re-Run – Our Obsession With Decorative Block Patterns Found In Mid-Century Modern Homes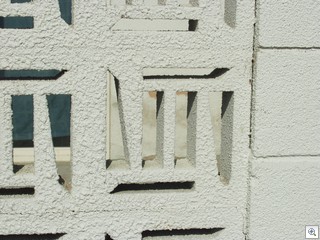 Our long time readers know about this obsession of mine. I love them! Here's a new one that I've never published before.
Click here for all the archived posts relating to decorative block.
From July 14 of our Archived OLD Web site
Mixing And Matching And Paying Attention To Detail
Just to make a point, that if we're "saving" the neighborhoods and the architecture and the designs of what ever era, we have to do more than just repair the functionality. I think this is why someone should start to make these patterns again. I know I've become obsessed with these block designs, but at least it's one of the many obsessions I can blog about.