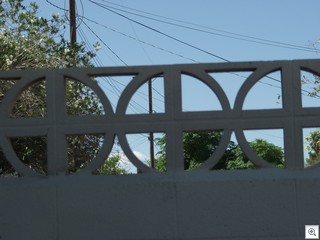 Found it in Fran Park 3, one of our undiscovered mini-mod neighborhoods.
We did a whole series of posts on the old site. I'm linking to the posts below, and republishing Fran Park 3 for you today.
All The Francisco Park posts from the old site are here
From our July 24th Archive:
Francisco Park is one of the currently unloved and undiscovered Vintage Vegas Neighborhoods
Fran Park Group #3 is between Maryland Parkway and Eastern Ave. on the east and west and from Karen Ave. on the north to Golden Arrow on the south where it bumps into Paradise Palms. Pardee started on this group of about 600 homes in 1960, and by 1969 had bumped up to the dirt road that was Eastern Ave. Going south from Downtown, it's also the first neighborhood in Vintage Vegas that's in the COUNTY instead of the City.
Originally, I had divided what I'm now calling group 3 into groups 3 and 4, but I've had a change of mind. So from now on what we'll call Group 4, which we'll discuss tomorrow, is east of Eastern, and I've eliminated group 5 from my thought pattern about Fran Park.
These homes in group 3 are basically similar to group 2, in that they're "mini-mods" but the lots were a little smaller, averageing 6000-7000 sf. The streets were curved and wide, and they got a little more creative on the pop-outs and sunscreens and other architectural detailings. Lake Elementary which sits in the middle of of group 3, has nice colorful playgrounds. There's a Mormon Church, and Sunrise hospital and some of the other taller buildings from Maryland Parkway can often be seen over the rooftops.
If my memory serves me right, they also started drywalling over the concrete block on the interiors, which made the homes more comfortable and easy to live in, as you could now hang pictures on the walls without drilling int
o cement blocks. In judging the size of the cluster of nicely kept homes and terribly maintained ones, I think I found about 8 bad ones clumped together on average before I got to another good one. Definately a neighborhood ready to transition, but one of the people I talked to had a for sale sign on his dead lawn, hadn't painted the trim or the house in 20 years, and told me he was selling because the neighborhood was "too run down" for him. I asked him why he didn't clean up his own house, and encourage the neighbors to do the same. He actually told me that it hadn't occured to him the HE was part of the problem! Hopefully, I got him to thinkin'! Who's next? There's 19 homes for sale in Fran Park Group 3. The lowest is a 3/1/875 sf for 199k, and the most expensive is a 4/2/1870 sf for 270k. For the first ever, I think, I found a neighborhood where there's not a single home under contract. There were however, 30 homes sold in the last 12 months with a low sales price of 146,000 and a HI price of 320,000. I sho
wed some of the very nice
ones above, and below ar
e some of the worst.
.