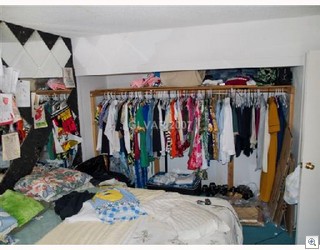 The question is…. Is it a story that should be told?
Every single picture from this listing ended up in one or another of my bad picture folders.
Here's 3 from the "clutter" folder.
And if you're going to tell the story, you might as well tell the whole story!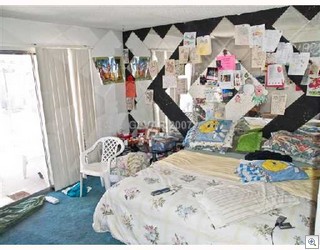 Debbie's a very busy young lady. There's no time in her life for opening and closing closets. She has 3 different boys sending her love notes during math class. Since she's leading them all on, she hangs all their letters over her bed to help her remember who said what on any given day.
Debbie's real mad at her folks for putting the house up for sale. She doesn't want to move away from her friends or from the dream of being prom queen. But she did make the bed to get her mom off her back.
The agent had flashbacks to her own days as a cheerleader and serious flirt so she decided that this mess of a typical teenage girls room was going to be the major focal point of her marketing of the home.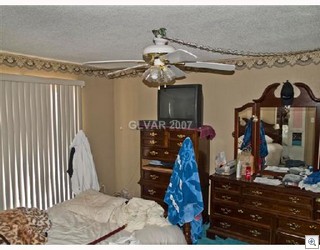 Mom really wants to sell the house. To set a good example for Debbie, she kinda cleaned up her own room.
Unfortunately, the agent showed up to take the pictures before she finished.
The only thing worse than a bad picture is NO PICTURE AT ALL!
.