Worst MLS Photo Of The Day – How Much Time Could It Take?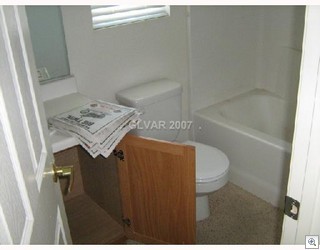 Sometimes I'm just baffled. Could it really be that difficult to stuff the newspapers into the vanity, close the door, and THEN take the picture?
At least the toilet lid is closed. I'll give 'em that!
The only thing worse than a bad picture is NO PICTURES AT ALL!
YOU CAN HELP US IMPROVE THE QUALITY OF MLS PICTURES!
If you see one while searching thru the Las Vegas MLS, just send me an email with the address or the mls number or copy and paste the picture. I'm sure you'll find one or a hundred also.