Didi has become one of our regular readers and most regular commenter. To thank her for that, we thought we'd give her some blog love and direct you to her fine writing about Chicago's past. She blogs about Chicago History at DimBeautyOfChicago.
Once we were clicking around at her site, we found our way to a whole lot of other historic preservation sites and some other fun places and interesting things to read and see on a cold winter night.
10 + years ago, I got my first dial up internet connection, and spent many an evening clicking on links to links to links to a whole universe of time wasting websites. Now with Web 2.0, I just tell google or yahoo what interests me, and it arrives. When I find something I like in the blogospere, I just tell my "google reader" to pull in the new posts and feed them to me. Rarely do I find anything of interest on an "old fashioned web 1.0 website. In fact, you can subscribe via RSS Feed to VeryVintageVegas.
Tonight was a nostalgic return to my first year of playing on the internet. These are some of the places I went tonight.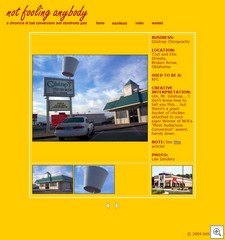 There's a ton of "Not Fooling Anyone" right here in Las Vegas. I'm sure you have a favorite. This is one of the funniest that I found on their site.
RoadSidePeek was a lot of fun and a great resource for the "Googie" enthusiast. They've got great pictures, descriptions and links to places all over America.
We found even more fun "googie" architecture at AgilityNut
Seattle History is covered nicely at VintageSeattle It's on par with our local history favorite ClassicVegas history site.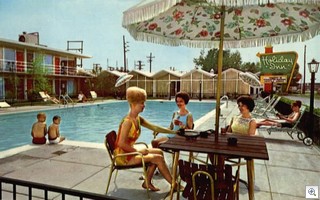 MOTEL HELL
I stayed in an exact replica of this Holiday Inn on Broad Street in Columbus Ohio when some cousin or other got married. I was about 10 at the time, and we all stayed in a motel that was only 5 minutes from our home. What a treat. Now that I'm a "mid mod" enthusiast, great memories keep surfacing to remind me that I ALWAYS was one.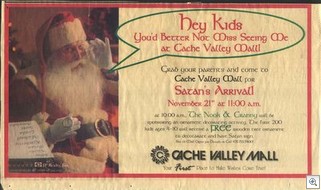 We usually bypass December and the "holidays" all together but the creator of Motelhell also brings us Deviled-Ham and this terrific piece of masterful typesetting from days gone by. Spellchecker wouldn't have caught it either! Click on the picture to see it big enough to find the typo yourself.
And Somewhere along the way, I ended up checking out and voting for the my favorite collectible car of the year.
That was how I spent my first Monday Night after "HEROS" went on break. (BTW, Heros is the absolute most fascinating show ever on TV)
.