While Jack, Pam, Paco, Susan & I enjoyed a rather intimate Lo-Pro at our favorite bar Downtown Cocktail Room last night, the Fremont music flyer fairy was hard at work. Upon finally leaving I came back to my car, parked on Carson to find evidence that things are indeed alive & kicking downtown.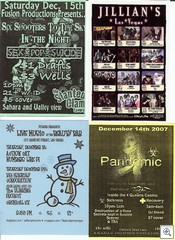 While we're happy to see things going strong and regular pedestrian traffic in the Entertainment District picking up, we're getting word there are some great things picking up steam a little further South as well.
The Aruba Hotel located just South of Charleston on 1215 Las Vegas Blvd. S. has had a recent change in management and the Club Aruba and Thunderbird Lounge venues in this vintage hotel have some interesting events taking place.
Wednesdays at the Aruba (Tropical) are now becoming the staple Latin night in the area, and packing the house weekly. The monthly First Friday after party is apparently one of the hottest downtown.
Every Friday (except the first) they host a Swing Dance night with free lessons from 8–9pm and then just full on swingin' starts around 10 pm.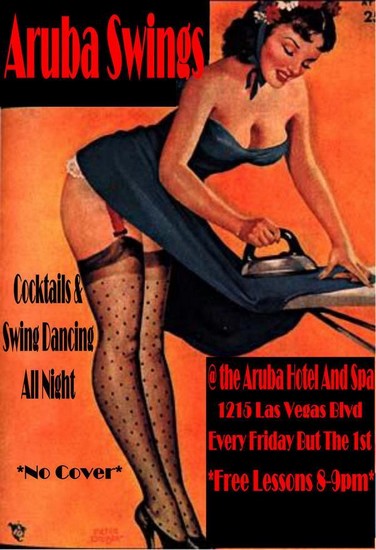 There's also a larger block of free Swing lessons from 6–8pm on Sundays in the Thunderbird Lounge.
You can check out the Aruba Swings Myspace for more info.
There's word this vintage and versatile venue may soon see some more exciting changes in January & we'll keep you up to date as the late night debauchery develops!
As a downtown resident living closer to the Arts District than Fremont, I'm very excited to see some great things going on in the area that are very accessible to those of us in the Huntridge/John S. Park/18 b/ & L'Octaine areas(yes, we get to be our own area). I hope you stop in check out the cool vintage vibe in the Aruba. Oh… everything at the bar is buy one get one until 6pm every day.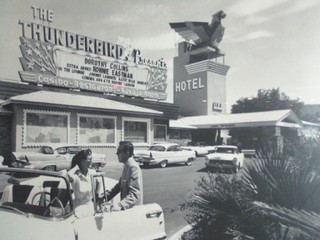 Too bad it's right on the way home from work, huh?
.