Want To Show Off Your Vintage Vegas Pride?

Send us an e-mail and include your address. You'll get a couple VeryVintageVegas window stickers for your car, your golf cart, or your Ducati windshield. (Now also available for boats & small water craft) Let your neighbors know you 'get it' & you'd rather keep your pink tile bathroom, thank you very much!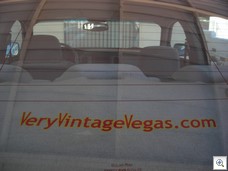 They're static cling, so your Rolls won't retain any residue. They measure about 9 inches by 1 inch.
Get some!