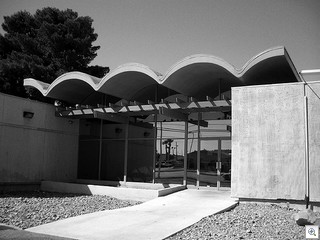 The monthly meeting of the Atomic Age Alliance will be Wednesday 2/13/2008 at the Italian American Club just east of the Burger King on Sahara Ave and Eastern.
This should be a lot of fun, as we'll get to do a flashlight tour of the Federated Employees of Nevada building which the Atomic Age Alliance was instrumental in helping to save from the bulldozer.
It's literally in the parking lot of the Italian American Club. The tour will be during the meet and greet portion of the meeting at 7pm, and then the business meeting will follow at 7:30 to approximately 9pm.
If you've thought about getting involved in the preservation of Vintage Vegas, this is a great place to start. If you complain about not knowing anyone, then I recommend coming out and meeting most of the movers and shakers in the Vintage Vegas Preservation Movement.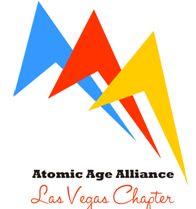 United across the miles, we have a stronger voice for the preservation of our Mid 20th Century heritage! The Atomic Age Alliance is a volunteer organization dedicated to celebrating historic Mid Century Modernism and Atomic Age design, signage, architecture, culture and business through ongoing community advocacy, activism and educational programs.
We have alliances with the Los Angeles Conservancy Modern Committee, Palm Springs Preservation Foundation and Modern Committee, Classic Las Vegas, Recent Past Preservation Network, Doo Wop Preservation League, Kansas City Modern Committee, and Portland Modern Committee Join Globally – Act Locally.
Since VVV has readers all over America, If you know of any other modernist preservation groups that we should be aligned with, please send an email or post a comment with their contact information or web address.

There's a ton of information on modernism awaiting you if you'll check out some of the other organization websites that we've linked to above. We're just late in getting started, but what do you expect from the "newist" city in America.