Our Downtown neighbor, past client, and favorite reporter Joe Schoenmann published two articles this week in the Las Vegas Sun that are worth mentioning.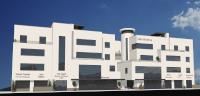 First, he tells us of a new development in the arts district that matches our wish list of what we'd like to see a lot more of. Work Space lofts in an real and viable art community.
Quoting from the article: "Now the owner of S2 and Jack Gallery is about to do something he says will help the downtown Arts District turn the corner. With investors, he's planning to pour $27.1 million into Vegas Moderne, which will include museum, gallery and live-work-sell space for artists. He expects to take renderings to the city Planning Commission and City Council in February."
Todays Sun has a report by Joe on some new additions to the neon museum among other projects.
More art is on the way, outdoors. The City Council on Wednesday approved plans to refurbish two vintage neon signs, the Binion's Horseshoe rotating sign and the Silver Slipper shoe sign, both of which will be erected on Las Vegas Boulevard next year.
Also, in the Sun this week, Kristen Peterson tells us that Dust Gallery is moving north of Charleston, and will be on the ground floor of the Soho Loft tower. We love the subtle crack she makes on the REI neon fiasco, "As REI Neon/Warburg Pincus continues to toy with downtown tenants and property owners, some businesses are packing up and leaving."