Vladimir Kagen, Grandfather Of Modern Furniture Design To Hold Book Signing At Morelli House
The Junior League of Las Vegas
Requests the pleasure of your company
For a reception honoring Vladimir Kagan,
the 'grandfather of modern furniture design'

Thursday, January 31, 2008
4 p.m. to 6 p.m.

Cocktails, Hors d'ouvres, Music, Book Signing

JLLV's Morelli House
861 Bridger Street
Downtown Las Vegas

RSVP
Kristen Routh Silberman, JLLV PR
kristenrouth@yahoo.com or 702.435.5646
On the same day, Vladimir Kagen will be the first in a series of lectures to be presented at the World Market Center. This lecture series is not open to the public, but it is open to attendees and people in the trades. If you fall into one of those categories, I'm jealous.
Of course there's plenty more on Kagen if you google him, but here's some of the links I found most interesting and informative when I did it.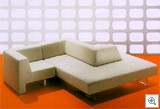 designboom interview
Complete Kagen: Vladimir Kagan—A lifetime of Avant-Garde Design (hardcover) at Amazon
An Interview with PureContemporary "It would be a free form amorphous space; lots of windows, lots of open space, no clutter. [Chuckling] I have created clutter all of my life, I have never practiced what I have preached. "
Architonic has a whole page of Kagen Designs from various auction houses.