Vintage Hotel Party In Downtown Las Vegas – Free Drinks, Swing Dancing And More
We posted a while back about some things going on at the Aruba Hotel & Spa. This Vintage Vegas hotel is located just South of Charleston on the East Side of Las Vegas Blvd. Being right behind John S. Park, and recently under new management, The Aruba is picking up some steam with the local Downtown Crowd. With a larger auditorium, as well as an intimate and 'just gritty enough' vibe in the Thunderbird Lounge, more diverse and eclectic events are showing up further south of the Fremont East District.
We still love the Downtown Cocktail Room, don't get me wrong. However having this cool venue literally in the backyard of The John S. Park Historic Neighborhood is just too cool not to mention.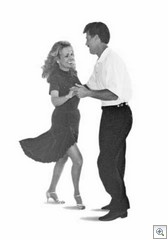 If you haven't been to the Aruba yet, tonight is a great time to stop in. From 6-9pm, at 1215 S. Las Vegas Blvd. the roaming party from Spy On Vegas will be in attendance with hosted Vodka and energy drinks.
Also going on there between 6 and 9 tonight, you'll have a chance to see the long-running event of the Aruba Swings, a local group that joins twice a week to teach and celebrate vintage swing dancing.
After 9pm, Ge-ology from Brooklyn, NY will be showing art, and music will be provided all night by local house music masters, Dj Sense, The Martinez Brothers, and Kilowatt Electric Soul Sound Generator.
For more info check out Racketonline.com.