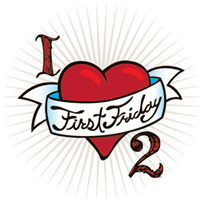 Since this month the First Friday is also The FIRST OF THE MONTH, it kind of crept up on me.
The whole schedule, including shuttle stops and everything else is available at the First Friday website.
Of Special Interest To Jack LeVine will be:
Cirque du Soleil will showcase the creative talents of its employees in its 4th Annual 'The Collective' exhibit in the Arts Factory.
In addition, the Cirque du Soleil Community Support Grants for the Visual & Performing Arts will be awarded.
Jack LeVine's friend Kenton Aemmerson, who's Cirque du Soleil Cultural Action Coordinator, says "In our ever expanding community of Las Vegas, the need for cultural awakening and growth is a constant vital necessity. Cirque du Soleil creates many links with people active in the artistic communities of Las Vegas. The participation in the First Friday arts festival is one way Cirque du Soleil has been committed to support and assist emerging artists and art organizations. The company also strives to support its many employees who have an artistic practice besides their current position at Cirque du Soleil. "
Also Of Note:
DUST GALLERY HAS MOVED TO SOHO LOFTS: on Las Vegas Blvd. and Hoover. 900 Las Vegas Blvd S, Las Vegas, NV 89101 Featuring Venske & Spänle: On It, December 14, 2007 – February 3, 2008. Open First Friday. Gallery hours: Wed – Sat noon – 5 p.m. www.dustgallery.com 702-880-3878.
AFTER PARTY!
There's no need to go home at 10pm. AFTER ALL, THIS IS VEGAS! Downtown Las Vegas is HAPPENING
Check out the after parties at Aruba, Dino's Lounge, Beauty Bar, Downtown Coctail Room, Hogs and Heifers, and The Ice House.
There's also 2 special events on Thursday night January 31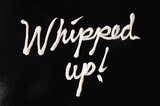 First is The CAC opening party from 6–9pm in the Arts Factory. This months show is called: Whipped UP! curated by Diane Bush who whets our appetite for food and lust during February.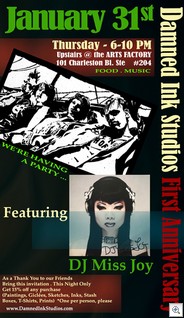 And simultaneously, Damned Ink Studios is holding their first anniversary party upstairs in the Arts Factory for 6–10.
Look for us on Friday night and say hello. We're always Friendly to EVERYONE!