It's our monthly custom to create several posts about what we saw and did at First Friday. Here's Part One.

Mild weather got the crowds off the couch and into the streets and galleries of Downtown's Arts District for First Friday. We started with wine at Pacos, in the trendy L'Octaine apartments on Las Vegas Blvd, and once the gang was assembled, we proceeded our first stop at the S2 Gallery.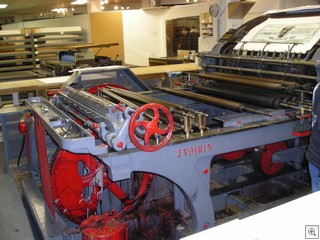 It's a favorite of mine every First Friday, and sometimes just for the fun of it during a slow weekday. S2 is one of the only authentic lithograph factories in America. They use 150 year old french lithography presses to create gorgeous prints of old movie posters, original pieces, and recreations. Make it a point to stop by at 1 East Charleston on the corner of Main Street.
There's also a very educational tutorial on their site about the steps it takes to create a lithograph.

Our next stop at the Arts Factory where we found our favorite Architect Steven Jackson holding court. Steven's responsible for the design at Holsom Lofts, and is currently working on the total redesign of a residence in Rancho Bel Air. He's turning a french mansard roof home into a modernist showplace. He's been telling me about it for months, and I finally got to see a rendering. He let me photograph it, and invited me to share it with you.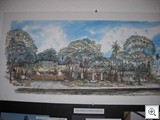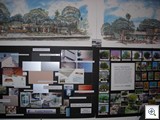 Watch for Part 2 as we continue to explore the Arts Factory.